Friday, March 9, 2012
SU Senior is Finalist in 'Africa' Internship Competition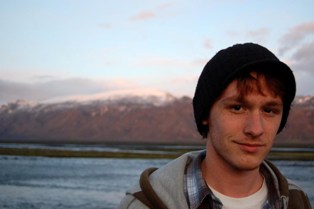 SALISBURY, MD---Salisbury University senior James Townsend is not running for office — but he's seeking votes.

The Abingdon, MD, resident is one of 50 national finalists in Chegg for Good's "Africa is Calling" competition, held in connection with ONE, an advocacy organization that helps raise awareness of extreme poverty and preventable disease in Africa.

Eight winners will receive internships that will take them to the continent, where they will experience these conditions first hand. Finalists have posted videos on Facebook, explaining why they are interested in the internship. The 20 videos receiving the most votes move on to the next level.

"The purpose of this internship is for students to become fully immersed in the issues faced by millions living on less than $1.25 a day in sub-Saharan Africa," said Lindsey Meyl of Chegg. Sponsors hope the winners will "take this experience to raise awareness of the extreme poverty, disease and the limited access African students' have to a quality education."

Townsend, an international studies and communication arts major, originally experienced some of Africa's poverty-stricken areas, spending a semester studying abroad in Dar es Salam, Tanzania on a Benjamin A. Gilman Scholarship from the U.S. State Department in 2010. While hiking through rural villages, he contracted malaria, spending five days in the mountains before he could return to a more populated area for treatment.

"I ended up in a hospital, bedridden, and it was there that I saw the true plight of Africa: so many hard-working, positive, wonderful people stuck in the vicious cycle of poverty, unable to break free because of a lack of education or development or even access to clean drinking water."

Upon his return to SU, he dedicated himself to activism and awareness efforts. These included forming a student organization that has screened documentaries about conditions in Africa and invited a former child soldier to speak on campus.

"James is a model for how study abroad can change a student's life forever," said Dr. Brian Stiegler, SU director of international education. "His studies in Africa bring honor to James and the entire SU student body."

"It's time for me to go back," Townsend said. "I want to see Africa through new eyes. I want to see development, in action, in the field, whether it's through politics or education or even building new clean water wells."

To help send Townsend back, visit Chegg for Good's Facebook site at https://apps.facebook.com/cheggandone/contests/181219/voteable_entries/42033193 and vote for his entry (limit: one vote per day). Facebook account holders also have the opportunity to add his video to their page to encourage other voters. Public voting ends Wednesday, March 21.

Those advancing to the next round will travel to Washington, D.C., to meet with members of Congress, ONE representatives, like-minded students and social entrepreneurs, who will select the eight winners. Townsend hopes to be among them.

"Africa helped change me," he said. "I would love to go back and help change Africa."

For more information call 410-543-6030 or visit the SU Web site at www.salisbury.edu.