Wednesday, August 7, 2013
BB&T Cuts Ribbon on New SU 'Spirit Branch'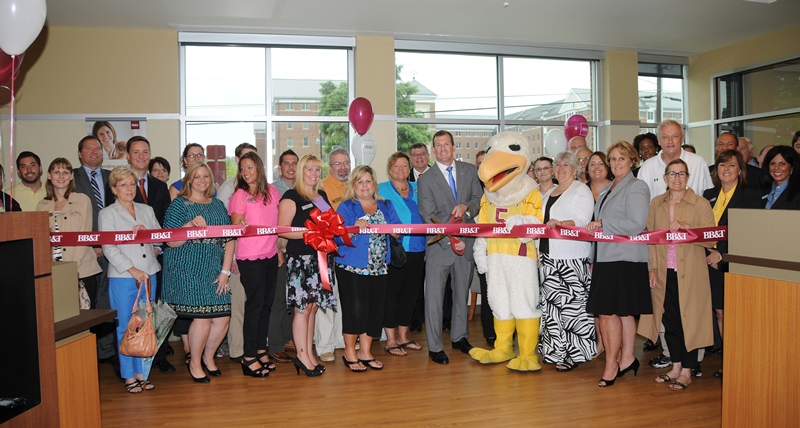 At a festive gathering attended by area business leaders, BB&T officially cut the ribbon on its new Salisbury University "Spirit Branch" opposite the campus. This is only the 12th collegiate spirit branch among BB&T's 1,800 financial centers, and is believed to be the first in Maryland. Others include Wake Forest, Clemson, Georgia State and West Virginia universities.

The spirit branch marks "the important role the University plays in the community," said Greg Tawes, BB&T market president for the lower Eastern Shore and an SU alumnus.

"BB&T has been a wonderful partner and I'm excited by the changes along Route 13," said SU President Janet Dudley-Eshbach.

"This is a beautiful location and facility," noted Dr. Memo Diriker, president-elect of the Salisbury Area Chamber of Commerce and a professor in SU's Perdue School of Business. "We thank the branch for having University colors." The interior of the attractive new building is decorated in subtle variations of maroon and gold. Outside features include a "Go Sea Gulls!" sign with Sammy, the University's mascot.

Other dignitaries speaking at the ribbon-cutting included Maryland Senator Jim Mathias, who praised the bank for its service. BB&T has been a sponsor of the SU Foundation's annual golf classic and contributed to the University's new Perdue Hall.