Thursday, May 15, 2014
Advanced Painting Class Hosts Open Studio Tuesday, May 20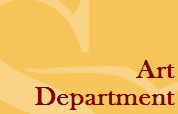 SALISBURY, MD---Art students in Jinchul Kim's advanced painting class at Salisbury University present their works during an open studio event 11 a.m.-5 p.m. Tuesday, May 20, in Fulton Hall Room 140.

Student artists include Kurt Auer, MacKenzie Barnard, Jeff Bell, Rashad Epps, Clifton Ignacio, Andi Lecha, Anna Lee, Chang Liu, Darion Long, Hannah Nock, Thomas Onley, Jack Roe, Lauren Silverglate and Claire Strayer.

Sponsored by the Art Department, admission is free and the public is invited. For more information call 410-543-6030 or visit the SU website at www.salisbury.edu.