Thursday, December 14, 2006
$5.3 Million Bequest for SU Nursing and Other Medically Related Professions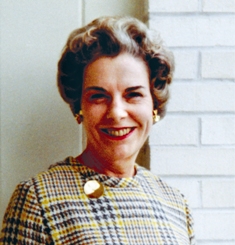 Lucy Tull
SALISBURY, MD---The Salisbury University Foundation has announced the largest single gift by an individual donor in its history—$5.3 million to benefit nursing and other medically related professions taught at SU.
The bequest is from the estate of Lucy Tull of Salisbury, who died in June.
"Lucy Tull understood the importance of skilled nurses and other health care professionals to the Eastern Shore's quality of life, and developed an abiding appreciation for the reputation of our Nursing Department and the caliber of its graduates," said SU President Janet Dudley-Eshbach. "She also believed it was important to provide deserving Eastern Shore students with greater access to a Salisbury University education, which will give them the tools to succeed in today's knowledge-based economy."
Most of the gift—$4.8 million—establishes the Lucy Tull Scholarship Program for students with financial need wishing to pursue a degree in a medically related field. Students must reside in Wicomico, Worcester or Somerset counties. The funds are also available for transfer students from Wor-Wic Community College who meet the scholarship prerequisites. While those studying nursing have priority, students in other programs such as pre-medicine and the health sciences, including respiratory therapy and clinical laboratory science, may apply.
The remaining $500,000 is earmarked for the Lucy Tull Nursing Department Enhancement Fund for faculty development and departmental equipment and supplies.
"This is the largest bequest gift ever received by Salisbury University," said Ed Thomas, chair of the SU Foundation. "I only wish she were here to see and feel the excitement of this day."
Although she spent the last four decades of her life in Salisbury, Tull's adopted home was New York City. A Sutton Place socialite who graduated from The American Academy of Dramatic Arts and the New York School of Interior Design, she was fondly remembered by her family for her charm, wit and sense of fashion. A regular visitor to the Eastern Shore while growing up, Tull had family ties to Worcester and Somerset counties. In the second half of her life, she built a home near the University in the Ridge Road neighborhood.
Keenly concerned about health care issues, she believed in SU's ability to educate high quality medical professionals needed in the region and beyond.
"This gift is a remarkable statement about the power of a healing hand and the difference that many believe we can make," said Dr. Susan Battistoni, chair of the SU Nursing Department. "We, the faculty, are proud to be entrusted with Mrs. Tull's legacy."
In appreciation, the Nursing Department is naming the Lucy Tull Nursing Learning Resource Laboratory in Devilbiss Hall in her memory.
At a time of critical shortages in nursing, health care has become more complex, and the demands on the nursing profession have never been greater. SU offers the only bachelor's and master's degrees in nursing on the Eastern Shore. Its 155 students, taught by 20 full-time faculty in state-of-the-art facilities, are heavily recruited nationwide. Graduates work at the National Institutes of Health, Johns Hopkins Hospital, University of Maryland Shock Trauma Center, Duke University Hospital, Christiana (DE) Medical Center and Washington Hospital Center, among others. Its second degree program in nursing, which can be completed in three semesters, attracts students from as far away as Montana, Utah and California. This program has also brought men into nursing in numbers far above the national average. About half of SU's nursing graduates stay on the Eastern Shore—helping to meet critical needs locally.
The Tull bequest is the second major gift to the SU Foundation this year. In March, the Arthur W. Perdue Foundation announced an $8 million donation toward a new home for the Franklin P. Perdue School of Business—the largest single private gift the University has received. Both are part of the Foundation's recently announced capital campaign, whose original fund-raising goal of $25 million has been increased to $30 million.
For more information visit the SU Web site at www. salisbury.edu or call 410-543-6030.