Friday, September 6, 2013
Zak Inaugurates Fall Writers-on-the-Shore Series Wednesday, September 18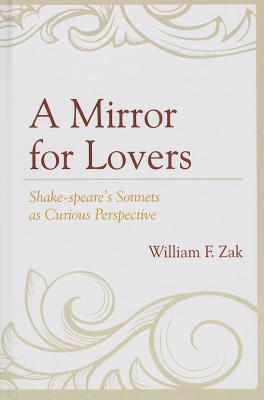 SALISBURY, MD---In his new book, A Mirror for Lovers: Shake-speare's Sonnets as Curious Perspective, Dr. Bill Zak, professor emeritus of English at Salisbury University, takes a fresh look at some of the Bard's most celebrated non-stage works.
Zak discusses and reads from the book to inaugurate SU's fall Writers-on-the-Shore series 8 p.m. Wednesday, September 18, in the Worcester Room of the Commons.
Released by Lexington Books, Zak's study examines Shakespeare's sonnets for structural and thematic features of a satirical tradition born in Plato's Symposium, namely an adequate definition of love. That tradition was renewed in Elizabethan sonnet sequences, most notably, according to Zak, within the sonnets of Shakespeare.
"For four centuries now, the tale the sonnets have been repeating has simply provided tantalizing hints of some meaningful story just beyond our grasp," said Zak, adding that he first became deeply interested in the sonnets while working with a student, Jeanne Brosnan, on an independent study project nearly three decades ago.
As he sees the poems, the reading experience of the sonnets dialectically juxtaposes two very different speakers and sensibilities: one oddly named in the manuscript as "Shake-speare," a figure who consistently manifests "false good will/Will" or "true ill will/Will" and the other, more nearly the Bard himself, whose tone of voice and bearing toward the world and our time here unfailingly incarnate and exemplify "true good will/Will," itself and himself an emblem of Love designed for generous edification and epiphanic delight.
Ewan Fernie, professor and chair of Shakespeare studies at the University of Birmingham's Shakespeare Institute in Stratford, calls the book "a powerful new vision of Shakespeare's most important, as well as most fiendishly difficult, poems. It will renew the sonnets for their present readers in the most moving and surprising ways.
"Zak does full justice to their ironic subtlety and yet, at the same time, and by means of a really original responsiveness to their 'perspective art,' unfolds a beautiful and inspiring love-mysticism pertaining to our earthly lives rather than to the hereafter. Unlike much academic criticism, this is a really lively book with something important to say to us."
Zak's previous books include Sovereign Shame (Bucknell, 1984), a study of King Lear; and The Polis and the Divine Order: The Oresteia, Sophocles, and the Defense of Democracy (Bucknell, 1995). He is currently completing two separate monographs on Antony and Cleopatra and Hamlet.
Sponsored by the English Department and Writers-on-the-Shore, admission to his talk is free and the public is invited. For more information call 410-543-6030 or visit the SU website at www.salisbury.edu.