Wednesday, July 13, 2016
Wicomico Historical Society Honors Historians with $50K Nabb Gift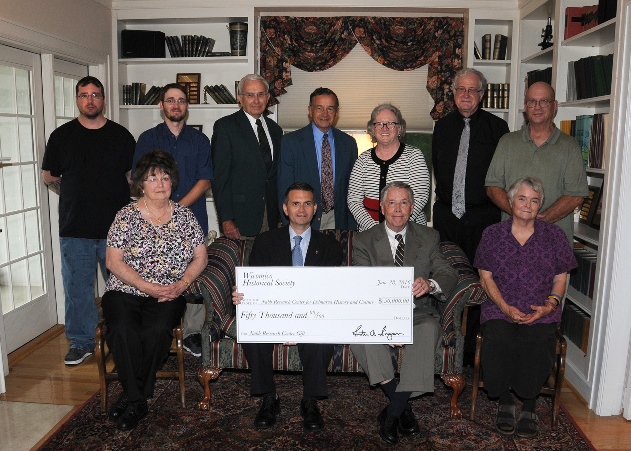 SALISBURY, MD---Several past presidents of the Wicomico Historical Society (WHS) made preserving the region's history a cornerstone of their lives.

Now, WHS is honoring them by giving $50,000 to Salisbury University's Edward H. Nabb Research Center for Delmarva History and Culture.

The gift comes as the Nabb Center prepares to move into its new home in SU's Patricia R. Guerreri Academic Commons, opening in September. With it, the campus and greater community will be able to utilize the G. Ray Thompson Conference Room and the Bettie Harcum Morris Digitization and Processing Center. Thompson is the Nabb Center's co-founder and retiring director, and a longtime WHS board member. The late Morris was a past president of WHS and a patron of the Wicomico Heritage Center.

The gift also honors two other late past presidents: George E. Chevallier Jr. and John E. Jacob, Esq., both noted authors and local historians.

WHS board members Anthony Sarbanes, Lester Simpson and George H. White said: "On behalf of our past and present members, we are pleased to make a gift to the SU Foundation for the Nabb Research Center at its new location. The Society recognizes the contributions of Dr. G. Ray Thompson, as well as deceased past presidents of the Society, all of whom encouraged the preservation and appreciation of our local history. The new Nabb Research Center will be a wonderful resource for University students, and the community will benefit from this excellent facility as well, not only for historical research, but for the preservation and display of significant local artifacts and memorabilia which will be conveniently accessible to the public."

Speaking about the others being honored, Thompson said: "This gift showcases people who have contributed a great deal to the history of Delmarva and who have a deep and longstanding connection to the area. They are worthy of recognition, as they helped others to understand the region's past."

Thompson called Chevallier the historian of Salisbury, adding that his sons and sister hope the Nabb Center will benefit from having more of his collections. Morris' family, he said, has lived in the area for generations, and she was a WHS founder. Jacob was a well-known attorney whose popular books told the history of the Lower Shore.

"The WHS is honoring these folks because they continued to keep the history of Delmarva alive instead of letting it slip," Thompson added. "They felt an urgency to preserve the history and culture of this area."



"This gift from the Wicomico Historical Society will serve as a lasting tribute to those who have served and shaped two important community entities, responsible for preserving our area's heritage for future generations," said Dr. T. Greg Prince, executive director of the SU Foundation, Inc. "We are grateful for the Society's support of the Nabb Center as it opens in its new home."

Pictured, from left, is (front) Barbara Chevallier Bailey (sister of George Chevallier Jr.); Dr. T. Greg Prince, executive director of the SU Foundation, Inc.; Lester Simpson, WHS board member; Anne Morris Clay (daughter of Bettie Harcum Morris); (back) Jason and Michael Chevallier (sons of George Chevallier Jr.); George White, WHS board member; Tony Sarbanes, WHS board member; Dr. Diane Allen, SU's provost and senior vice president of academic affairs; Dr. G. Ray Thompson, co-founder and retiring director of SU's Nabb Center; and Stephen Coon, a preservation activist.

For more information, call 410-543-6030 or visit the SU website at www.salisbury.edu.