Tuesday, May 19, 2015
Ward Museum Breaks Ground on New Legacy Center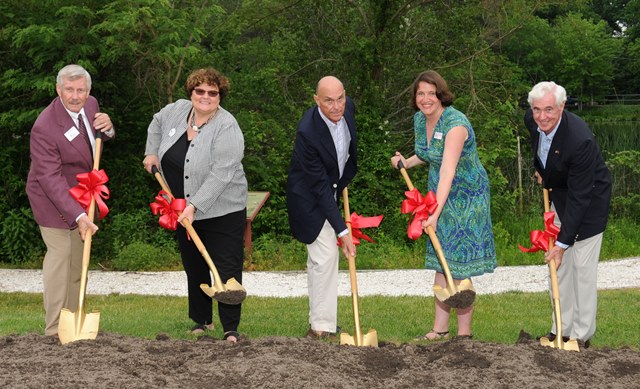 Dr. Kent Kimmel, chair of the Ward Foundation's board of directors; Salisbury University President Janet Dudley-Eshbach; Thomas "Tim" Mullan III; Lora Bottinelli, Ward Museum executive director; and John Luetkemeyer Jr. ceremoniously broke ground on the new Legacy Center.

An architectural rendering shows how the new John A. Luetkemeyer Sr. and Thomas F. Mullan Jr. Legacy Center will fit with the current Ward Museum of Wildfowl Arts facility.
SALISBURY, MD---Before a festive audience of friends and donors, Salisbury University's Ward Museum of Wildfowl art today hosted a groundbreaking ceremony for its new John A. Luetkemeyer Sr. and Thomas F. Mullan Jr. Legacy Center.
John A. Leutkemeyer Jr. and Thomas F. "Tim" Mullan III donated a combined gift of $400,000 for the construction of the new facility, to be named in honor of their late fathers.
With their donation, the new building will add 2,300 square feet to the museum and be used as an educational center and flexible meeting space to serve the growing needs of educational and cultural programs for all ages. The center will enable the museum to serve grade-wide school field trips for the first time. It also will incorporate environmentally sustainable design.
For more information call 410-742-4988, email wardinfo@salisbury.edu, or visit the museum's website at www.wardmuseum.org.