Friday, September 5, 2014
United Way Kicks Off 70th Anniversary Campaign at SU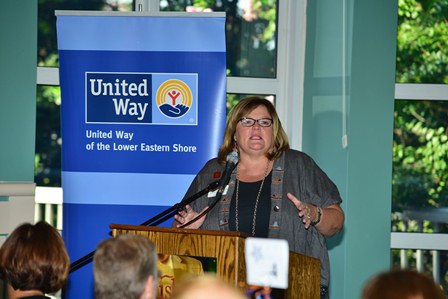 Entertained by the melodious sounds of "Squawkapella," Salisbury University's student a cappella group, 255 local leaders sat down to enjoy breakfast, conversation and rousing calls to action for helping the community during the 70th anniversary kickoff of the United Way of the Lower Eastern Shore's 2014-15 campaign.
The morning was sponsored by Salisbury University and hosted by Perdue Farms CEO Jim Perdue. President Janet Dudley-Eshbach welcomed the Lower Shore's political, educational and business leadership, who included University of Maryland Eastern Shore President Juliette Bell, Wor-Wic Community College President Ray Hoy, Maryland Senator Jim Mathias, and delegates Norm Conway and Addie Eckardt, among others.
"At SU, we believe it is important that we give back to the community that has been so generous to us," said Dudley-Eshbach. "Our students provide countless hours of service to people and agencies all over Delmarva. We are grateful for their volunteer work and for that of faculty mentors such as Dr. Memo Diriker and Dr. Diane Davis Hayes and others, and community role models such as Jim Perdue and Kathleen Mommé. In an important way, they show our students that service goes hand in hand with leadership."
Perdue noted that this was the 10th year he has hosted the event, which initially began with approximately 40 attendees.
Guests at the morning celebration were greeted by students in their white United Way T-shirts. They were members of SU's United Way student club and also the Alpha Sigma Tau sorority, which this year is teaming up with the local United Way. The campus' United Way chapter is the first at any university in Maryland.
"SU is grateful for all that the United Way does for the Delmarva region and our residents, and we are pleased to partner with them," Dudley-Eshbach said.