Monday, October 27, 2008
U.S.A.F. Vector Brass Band Performs at SU November 9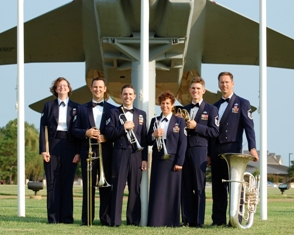 SALISBURY, MD---Country, funk and top 40 from a brass band? Yes—if that brass band is Vector, one of the U.S. Air Force's newest ensembles.
The band performs at Salisbury University 3 p.m. Sunday, November 9, in Holloway Hall Auditorium.
Formed earlier this year in response to the military's growing need for mobile, troop-focused ensembles, the six-person band combines traditional brass pieces with newer musical styles, including Dixieland jazz and Broadway showstoppers.
Vector's members bring diverse musical backgrounds to the ensemble. MSgt. Bob Newlin, the non-commissioned officer in charge, has performed with the U.S. Air Force Band of Liberty and the U.S. Air Force in Europe Band. MSgt. Steve Eklund, who plays tuba, has also performed with the Air Force in Europe Band, as well as the Pacific Air Force Band.
MSgt. Verlie Vigil, who has performed as a vocalist with four regional bands, joins SSgt. Jonathan Rattay on trumpet. Rattay earned his Master of Music from the Cleveland Institute of Music. SSgt. John Garcia majored in euphonium performance at the University of Cincinnati College Conservatory of Music, while Senior Airman Tamra Gobert, percussionist, earned her B.A. in music education from Louisiana State University.
Sponsored by the Office of Cultural Affairs, their performance at SU is free and the public is invited. For more information call 410-2198-2872 or visit the SU Web site at www.salisbury.edu.