Thursday, January 12, 2017
'Study Abroad Experiences' Inaugurates Spring Environmental Studies Colloquium Series February 8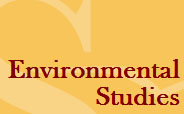 SALISBURY, MD---Salisbury University environmental studies students inaugurate this spring's SU Environmental Studies Colloquium Series with a discussion of their study abroad experiences from the past year 5:30 p.m. Wednesday, February 8, in Perdue Hall's Bennett Family Auditorium.

Upcoming presentations in the series include:

Wednesday, February 22: "Pipelines and the Public Square," 7 p.m., Conway Hall Room 153 – Dr. Janet Fiskio of Oberlin College discusses recent movements like #NoDAPI and Idle No More that provide opportunities for participatory democracy and utopian desire to emerge.

Wednesday, March 15: "Green Infrastructure and Sustainability: The Weaver Bird Arboretum and Apiary in Africa," Conway Hall Room 153 - Dr. Fulbert Namwamba from SU's Geography and Geosciences and Environmental Studies departments shares examples of the importance of green infrastructure in rural landscapes from recent restoration efforts on a farm in Kenya.

Wednesday, April 12: "Landscape Simplification and Pollinators: Can We Design Agricultural Systems that Maintain Ecosystem Services?," Perdue Hall, Bennett Family Auditorium, 5:30 p.m. – Dr. Claudio Gratton of the University of Wisconsin's Entomology Department discusses how increasing demands for food and fuel have led to the removal of natural and semi-natural agricultural landscapes and an increase in monocultures of annual crops.

Sponsored by the Environmental Studies Department, admission is free and the public is invited. For more information call 410-543-8105 or visit the SU website at www.salisbury.edu.