Monday, February 7, 2011
Students Win Travel Awards for National Biology Meeting
SALISBURY, MD---Three Salisbury University students have won travel awards from the American Society for Biochemistry and Molecular Biology (ASBMB). They will attend Experimental Biology 2011, the organization's annual meeting, and participate in the 15th annual student research poster competition, in Washington, D.C. on April 9-13.
SU is the only Maryland institution to have students selected by ASBMB for the $400 awards. Nearly 13,000 scientists and exhibitors will attend the meeting, including students from Virginia Tech, Cornell and Tulane universities.
"SU is one of only a handful of schools to send three or more students to the annual meeting, impressive considering this is the first time SU students competed for these awards," said Dr. Karen Olmstead, dean of the Richard A. Henson School of Science and Technology. "Our science students are doing interesting work."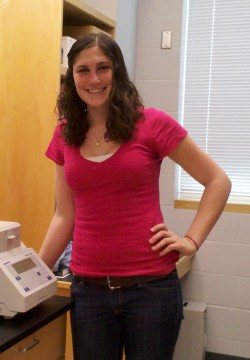 Senior biology major Allison Ose of Crofton, MD, is one of only 20 undergraduates to win a national competition for the award. Working with Dr. Chasta Parker of the Chemistry Department, she's been using a cloning technique to study the protein hormone adiponectin, which is known to help control the oxidation of fatty acids and metabolize glucose. The research may ultimately lead to new drugs to treat obesity related diseases.
"We'll have the opportunity to network with professors and potential employers and attend a seminar that helps with the process of getting into grad school," she said. "In addition, it's a great chance to see what other undergraduates are working on and to attend seminars on up and coming research."
Senior chemistry major Matthew Copeland of Lexington Park, MD, and senior biology major Sabrina Kunciw of Ocean Pines were two of 56 undergraduates to earn awards from a regional affiliate network. Both are members of SU's Thomas E. Bellavance Honors Program.
"One of the most important things in the scientific field is sharing your discoveries with other researchers so they can provide advice or use the results for other applications," said Copeland, who is exploring the biochemical process of obesity related cancers and how adiponectin works as a possible treatment. "The award will allow us to worry less about the cost of the trip and focus more on creating an effective and meaningful presentation."
"Showing my work to fellow scientists will be a great way for me to cap my student research career," said Kunciw, who for two years has been working with Dr. Eugene Williams of the Biological Sciences Department to explore how fish alter the composition of their cell membranes in order to survive changes in water temperature.
Kunciw presented at the American Physiological Society meeting in Colorado last summer, while three of Williams' other biology students also spoke at the ASBMB meeting last year in New Orleans.
For more information call 410-543-6030 or visit the SU Web site at www.salisbury.edu.