Tuesday, December 16, 2014
Siblings, Cousins, Friends Enjoy SU's Powerful Connections Program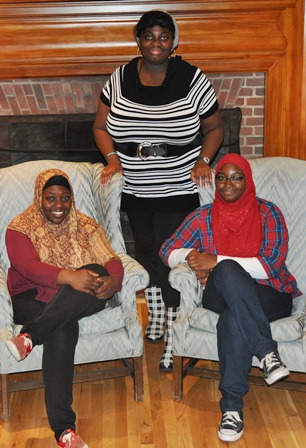 Kamilah Adigun, Saidat Sola-Rufai and Tawa Suleman

SALISBURY, MD---For Salisbury University senior biology major Saidat Sola-Rufai of Columbia, MD, being the first person in her family to attend SU was a race.

She likes to think she won, selecting the college first … though her brother, Sadiq, was the first to enroll, transferring to Salisbury a semester before her freshman year.

Since then, another family member, cousin Tawa Suleman of Bowie, MD, and a family friend, Kamilah Adigun of Randallstown, MD — also have joined her in becoming SU Sea Gulls.

"The size of the campus really allows everyone to connect and get together," said Suleman, a freshman mathematics secondary education major and member of SU's Science, Technology, Engineering and Mathematics Living Learning Community.

She and her cousin agreed that programs such as Powerful Connections, which provides an intercultural orientation for students of diverse backgrounds, are especially beneficial in helping students meet new people and make friends. Sola-Rufai, who experienced the program during her freshman year, is now a mentor to her cousin and friend.

All three said the campus' beauty, as well as the welcoming atmosphere, made them want to attend SU. However, some took a little longer than others to reach that conclusion.

While Sola-Rufai and Suleman made up their minds fairly early in the college selection process, Adigun, now a freshman medical laboratory science major, was not thinking about college yet when she visited SU for the first time as a high school sophomore. Still, it made an impression. During her second trip, with her mother on an official campus visit, her decision was sealed: "I said, 'Mom, I think this is the school.'"

After graduation, she hopes to follow in her uncle's footsteps and continue her education to attend medical school. Suleman plans to teach and possibly work toward developing education programs for non-public-school students.

Sola-Rufai said she has enough memories from SU to last a lifetime. The Medical Careers Society president and Muslim Student Association vice president moved into her first residence hall the same week Hurricane Irene struck campus in 2011 (though she was able to arrive early and settle in more so than many other students due to her participation in Powerful Connections).

She also had nothing but good things to say about SU's faculty: "My biology professors are my best friends."

Now that she is about to leave her Alma Mater, however, she is looking forward, not backward. She hopes what she has learned at SU will help her reach her lifelong goal of becoming a pediatrician and working with the humanitarian organization Doctors Without Borders.

Still, she said, SU will always have a special place in her heart: "The campus is what brought me here. The people made me stay."

* * *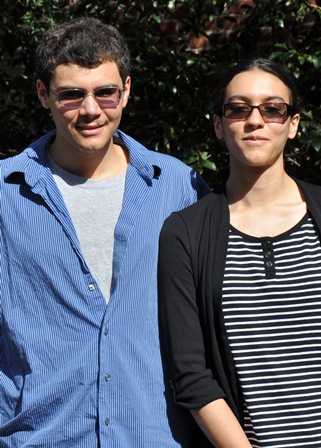 Omar and Maryam Aboul-Enein

During her early days in high school, North Potomac, MD, resident Maryam Aboul-Enein wanted to be a doctor. A family illness changed her mind.

She stayed with her grandmother as the matriarch experienced an extended hospital stay. During those long days and nights, she appreciated how much care the nurses showed and began thinking about her great-grandmother, who had preceded them in the profession nearly a century earlier. It was then that she decided to follow in those footsteps.

Of course, becoming a nurse meant going to nursing school. When considering colleges, Maryam decided she was going to attend the best. Looking at University System of Maryland institutions, that meant Salisbury University, whose students consistently boasted the system's highest pass rate on the National Council Licensure Examination for nurses.

At Salisbury, she found a welcoming, close-knit campus. She enjoyed her early years at the University, which included membership in SU's inaugural Nursing Living Learning Community, through which students with like majors live and take classes together during their freshman year.

"That community of support really helped me. It paid off," she said, adding that she got to meet SU's nursing faculty while still taking general education classes.

Experiences like those led her to recommend SU to her younger brother, Omar, when he began looking at colleges. He liked what he heard — and even more so what he saw.

"Before I was even admitted as a student, I was invited to a programming challenge and got to meet a lot of people," said the freshman computer science major.

Like Maryam, he joined a Living Learning Community — his focusing on Science, Technology, Engineering and Mathematics (STEM) — during his freshman year.

However, it was not the only program on campus that helped him make friends. Both he and his sister said they also enjoyed being involved in Powerful Connections, which provides an intercultural orientation for students of diverse backgrounds, are especially beneficial in helping students meet new people and make friends.

"It gives you perspective about what you can expect later on," said Omar, noting that the upperclassmen he met through the program, including his mentor, helped him acclimate to life at SU.

"If anyone [in Powerful Connections] thinks they will go through a week of orientation and then never see those people again, that's not what happens," he added. "You make long-lasting friends."

The Aboul-Eneins, both students in SU's Richard A. Henson School of Science and Technology, also praised the University's technological resources. The Richard A. Henson Medical Simulation Center, for example, has given Maryam an opportunity to learn in a unique environment she believes has given her an edge in nursing.

"It gives you a chance to learn in a safe environment," she said, noting that medical mannequins and live actors helped her train for patients with both physical and cognitive conditions while receiving real-time feedback from her instructors and peers.

After graduation, she hopes to join the U.S. Navy or begin a residency in a hospital critical care unit.

Omar, who interned as a high school student with the National Institute for Standards in Technology, a Maryland-based federal research facility, would like to find a permanent position there or at another government agency after his time at SU.

In the meantime, he's happy taking in the college experience one day at a time, learning new things culturally and in the classroom.

"That's what college is all about," he said.

* * *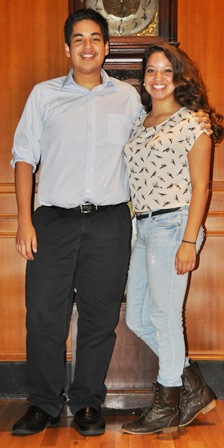 Vlad and Karen Rodriguez

When Vlad Rodriguez of Gaithersburg, MD, was considering colleges during his last years of high school, he narrowed his choices to a very select field, touring only one school: Salisbury University.

"As one of the first people in my family to go to college, I didn't really know what to look for or how the process worked," he said. "When I came to tour the campus, it just felt like home."

Indeed, SU did become his home, for four years as an undergraduate and two as a grad student. Making it even more like home than ever, his younger sister, Karen, joined him as a Salisbury student in 2013, the same year he earned his B.A. in English.

For Karen, the feeling of "home" from the beginning of her college career was mutual — though perhaps for a different reason.

"Having my brother here gave me a sense of home," said the sophomore management major, also from Gaithersburg.

Now pursuing his M.Ed., Vlad recalled his undergraduate days fondly. Like Karen, he was a New Student Experience peer leader. They both also joined the Organization for Latin American Students, an organization Vlad said helped him explore his Latino identity and learn more about himself.

The two also praised SU's Powerful Connections program, which provides an intercultural orientation for students of diverse backgrounds. Their participation, though four years apart, helped them meet people on campus and form bonds even before the first day of classes, they said.

Looking ahead, the Rodriguezes hope to use what they learn at SU in the workplace. Upon earning his master's, Vlad plans to pursue a higher education career in student affairs, particularly residence life, following in the footsteps of SU administrators he has worked with as a resident assistant and current resident director. Karen would like to pursue a master's degree, as well, before beginning a career in human resources.

For now, however, the younger Rodriguez is happy taking advantage of the opportunities she has discovered at SU.

"There's something for everyone, and everyone should take advantage of that," she said. "I really enjoy Salisbury … and not just because my brother is here!"

* * *

For more information about SU's Powerful Connections program, call 410-548-4503 or visit the Multicultural Student Services website at www.salisbury.edu/multicultural.