Wednesday, June 20, 2012
SU's Women in Leadership Earns $1,500 Grant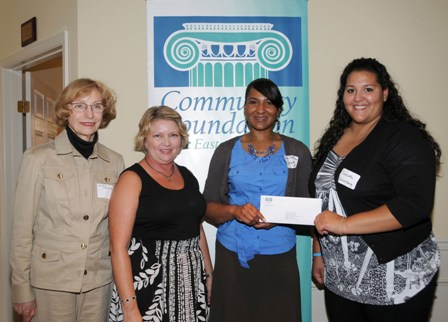 From left: Jackie Cassidy, Stephanie Willey, Kim Clark-Shaw and Samantha Greenberg.
SALISBURY, MD---Salisbury University recently was among the recipients of inaugural grants presented by the Women's Fund at the Community Foundation of the Eastern Shore.
SU's Women in Leadership student organization received a $1,500 grant to assist with programming this fall.
Founded during this spring as part of the University System of Maryland Women's Forum, Women in Leadership empowers students to reach their full leadership potential while pursuing higher education. The organization allows students to learn from unique challenges facing women in leadership roles and helps them build their own professional networks.
The Women's Fund grant will help facilitate a workshop this fall featuring Arianna Ross, artistic director, performing artist, author, educator and consultant at the Germantown, MD-based Story Tapestries. The two-day workshop will help students and women in the community perfect their own "stories" to make them more marketable.
Washington, D.C.-based filmmaker Rosemary Reed, the speaker from Women in Leadership's inaugural meeting in February, is expected to make a short video featuring the event. Community leaders are scheduled to attend to serve as mentors for the students.
In all, seven organizations received grants from the Women's Fund. Others included the University of Maryland Extension Office, Easter Seals, Wicomico HOPE, the Life Crisis Center, the Village of Hope and Diakonia, Inc.
For more information on Women in Leadership call 410-543-6030 or visit the SU Web site at www.salisbury.edu. For more information on the Women's Fund, call 410-742-9911 or visit the Community Foundation Web site at www.cfes.org.