Monday, September 26, 2011
SU's Whitehead Earns Prestigious Salisbury Award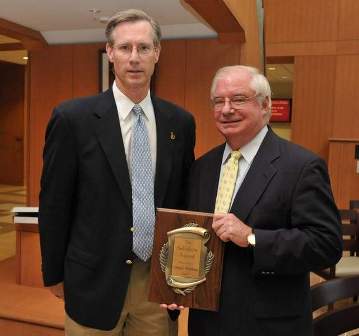 Art Cooley, chairman of the board of trustees for the Salisbury Award, presents the award to Dr. George Whitehead, right. (Photo by Todd Dudek)
SALISBURY, MD---Salisbury University's Dr. George Whitehead is the latest recipient of the community's oldest civic award: the Salisbury Award.
He received the honor during a ceremony at Perdue Hall.
The award was established in 1926 by local businessman G. William Phillips for the purpose of recognizing "service that has been the greatest benefit to the happiness, prosperity, intellectual advancement or moral growth of the community."
It has been presented 57 times since 1926. Past recipients include Fred A. Grier Jr., Dr. George Todd, Ruth Powell, James M. Bennett, Charles Chipman, Avery Hall, Richard Henson, Frank Morris, Sister Mary Elizabeth Gintling, Frank Perdue, Dick Hazel, Sam Seidel, Dave Grier, Dick Moore, Paul Martin, Dr. Nevins Todd, Virginia Layfield, Mitzi Perdue, Lewis Riley, Ben's Red Swings, Pete Cooper and the Community Foundation of the Eastern Shore. In 2010 the award was presented to Edward W. Urban.
Whitehead is a professor of psychology at SU. He was recognized for his many contributions to our community and his passion for youth. Whitehead recently chaired the City of Salisbury's All-America City Committee and was instrumental in obtaining the "100 Best Communities for Young People" designation for Salisbury.
He serves as chairman of Salisbury's Promise and worked to create the Youth Leadership Academy. He has served on the board of the American Red Cross and the Wicomico County Board of Education. He also is an active member of the Salisbury Rotary Club.
A plaque was presented to Whitehead, and he chose to give the $500 grant that accompanies the Salisbury Award to the Salisbury University Foundation, Inc. The money will be used to establish the Salisbury's Promise Alliance Scholarship, which will be given to a sophomore at the University who went to school in Wicomico County. The recipient must demonstrate a commitment to community service in high school and continued service as a freshman at SU.
On hand to recognize Whitehead's service to the community were Maryland Delegate Norman H. Conway, who presented a proclamation from the House of Delegates, and Salisbury Mayor Jim Ireton, who declared September 25 as George Whitehead Day in the city.