Wednesday, November 15, 2017
SU's Small Inducted into Pi Gamma Mu Hall of Fame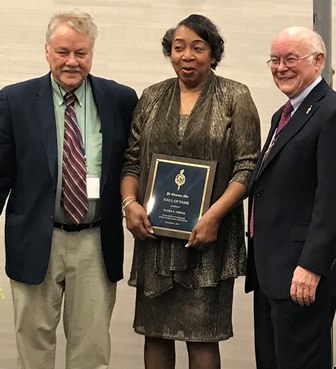 SALISBURY, MD---Dr. Clara Small, professor emeritus of history at Salisbury University, recently was inducted into the Pi Gamma Mu Hall of Fame during the international history honor society's triennial convention in Kansas City, MO.
Small was inducted into Pi Gamma Mu as an undergraduate student at North Carolina Central University in 1968. She helped organize SU's chapter, Maryland Gamma, serving as its advisor from 1992-2014. She also served as chancellor of the society's North Eastern Region from 1992-2011. She was elected the region's second vice president in 2011 and currently continues in that position.
"Clara, over many years, has approached her service to Pi Gamma Mu with distinction and dedication," said Pi Gamma Mu Past President Gordon Mercer, who nominated her for the honor.
"As chancellor of the North Eastern Region, she was a communicator who stayed in touch with chapters. She helped recruit new chapters, performed many site visits and maintained the active Maryland Gamma chapter at SU, which frequently received the Roll of Distinction or Roll of Merit during her many years as faculty adviser.
"As second vice president, she chaired the Pi Gamma Mu Awards Committee and helped award scholarships and other honors in a timely manner. The recordkeeping required in the awards area is substantial, and she worked well with award committee members and the Pi Gamma Mu executive director."
Mercer also praised Small's active meeting participation and positive attitude, as well as her activities beyond Pi Gamma Mu. These have included authoring several books chronicling African American history on the Delmarva Peninsula, as well as service on boards and committees such as the Commission on the Legacy of Slavery in Maryland, Maryland Commission on African History and Culture, and Deer's Head Hospital Center board of directors in Salisbury.
Small also has received many community accolades for her work in preserving African American history. These have included the Harriet Ross Tubman Lifetime Achievement Award, the Community Foundation of the Eastern Shore's Frank H. Morris Humanitarian Award and the Lower Eastern Shore Heritage Council's Tee O'Connor Heritage Professional Award, among others.
In addition, during her time at SU, she was honored with the University System of Maryland's highest faculty honor, the Regents' Faculty Award for Excellence, for public service.
For more information call 410-543-6030 or visit the SU website at www.salisbury.edu.