Wednesday, September 16, 2015
SU's Edward H. Nabb Research Center Hosts Open House, October 17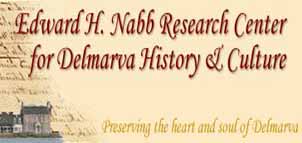 SALISBURY, MD---Salisbury University's Edward H. Nabb Research Center for Delmarva History and Culture (190 Wayne St.) celebrates Family History Month with an open house 10 a.m.-4 p.m. Saturday, October 17.

Nabb Center staff and volunteers join Dr. G. Ray Thompson, director, in helping visitors learn to use the resources available, whether just starting to research a family history or seeking help continuing genealogical research.

Admission is free and the public is invited. For more information call 410-543-6312 or visit the Nabb Research Center website at http://nabbhistory.salisbury.edu.