Wednesday, May 28, 2014
SU TRiO Students to Volunteer in Africa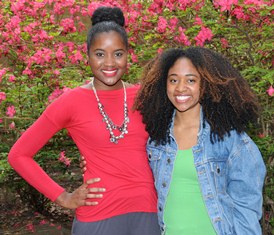 Ashley Van-Veen and Jewellianna Palencia

SALISBURY, MD---Many students are planning to spend this year's summer vacation working temporary jobs, relaxing at the beach and enjoying the break from classes.

Jewellianna Palencia and Ashley Van-Veen, on the other hand, will spend part of their summer helping people they haven't yet met in a country they never dreamed they'd visit.

For three weeks, the Salisbury University juniors will volunteer at Sparrow Rainbow Village, a facility for those infected with HIV and AIDS, in Gauteng, South Africa, through the U.S. Agency for International Development (USAID).

This opportunity was made possible in part by SU's TRiO ACHiEVE Student Support Services program and Dr. Andre P. Stevenson, social work department chair at Bowie State University. TRiO helps first-generation students, those with financial need and those with disabilities achieve their academic potential and personal goals.

Palencia, a psychology major from Washington, D.C., and Van-Veen, a respiratory therapy major from Guyana, now living in Baltimore, both became involved with TRiO as freshmen. Their experiences in the program have been positive, they said, culminating with the opportunity to volunteer abroad.

"To be able to travel and help people in a completely different country seemed like a really awesome experience," said Palencia. "Being able to experience a new culture is something I will be able to take and use in any aspect of my life."

Established by Sparrow Ministries, Sparrow Rainbow Village provides hospice care for the terminally ill, as well as a children's home for youth who have become homeless due to their caretakers' deaths. The facility also offers an adoption program, weekend parenting classes and a counseling center.

USAID accepts volunteers with medical, educational, recreational and psychological backgrounds for the program. Palencia and Van-Veen's fields of study helped set them apart from other applicants.

Through her major, Van-Veen currently fulfills clinical hours at hospitals. She said her work there made her particularly interested in learning about the clinics and orphan care procedures at Sparrow Rainbow Village. Both she and Palencia expect to use the skills they gained in SU's classrooms during their experience in Africa.

Their efforts are expected to serve as a pilot for future TRiO students interested in volunteering abroad in community health and social work fields. The program would support SU's mission of learning, community and civic engagement.

Palencia and Van-Veen join three students from Bowie State University during their time in Africa. They will have an opportunity to present information about their experiences at a regional and national conference.

For more information call 410-543-6030 or visit the SU website at www.salisbury.edu.