Tuesday, May 27, 2014
SU Social Work Students Organize Community Efforts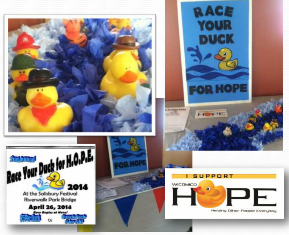 SALISBURY, MD---Students in Eileen Gilheany's Practice III Macro Social Work class at Salisbury University spent countless hours on efforts to better the region during the spring semester.
Projects included:
A duck race that raised over $4,000 for Project HOPE (Helping Other People Everyday), a non-profit organization serving Wicomico County families and seniors in emergency situations. Organizers were the "Duck Divas," Jami Truitt, Janae Johnson, Amy Sammons and Karen Wackett.
Creation of a mediation garden for the New Directions alternative school. Organizers were Rebecca Reese and Connar Hughes.
A Women Dressing Women event, through which organizers Kim Bowes, Amanda Frey, Kerrie King and Liz Ward collected over 950 high-end items to help provide proper job interview clothing for women re-entering the workforce.
A fundraiser that gathered nearly $1,400 to provide day trips for children at the Diakonia Homeless Shelter. Organizers were Shannon Sigamoni and Monica Brew.
A food giveaway for Salisbury area students enrolled in Wicomico County Public Schools' free and reduced meal program to ensure they had food for weekends, as well. Organizers included "Taming Tummies" team members Joe Knight, Alex Rigby, Ashley Jenkins and Natalee Cartwright.
A $600 financial and in-kind donation to the Community Winter Shelter and Winter Cots program, raised by Stacy Sweadner, Dina Karpf, Monica Turner and Kelsey Herbein.
A resource fair for 74 Wicomico County families in transition, organized by "Hope and Assistance" team members Cherokee Williams, Nick Hammond, Taylor Milbourne and Brittany Ducksworth.
A Spring Eggstravaganza celebration for over 100 persons with disabilities served by Dove Pointe, led by Michelle Apiecella, Farah Jeantel, Taylor Hearth and Amanda Sullivan.
"Spreading Some Springtime Cheer!" baskets donated to 112 area nursing home residents by Cindi Verges, Sandra Welsh and Tracey Scharf.
A fundraiser that provided $650 a therapeutic summer camp for children on the Eastern Shore, organized by Cherita Richards, Queeneth Ordu and Courtney Orebaugh.
A canned food drive for Zion United Methodist Church in Cambridge, MD. Diane Mason, Michelle Peeples, Courtney Fronczak and Erin Warner collected some 300 cans to help replenish the church's food pantry.
A "Wrap Around Maryland" fundraiser, led by Brooke Mitchell and Emily Gubish, to collect over $250 for therapeutic services.
Projects to benefit Eastern Shore Hospital Center patients, including a collection of over 3,000 beauty and hygiene items, and a visit from the Salisbury Zoological Park's interactive "Zoo 2 You" program, coordinated by the Project HOPE (Helping Others Achieve Excellence) team of Jasmine Allen, Annie Boyer, Faunda Hinton-Lynn and Briana DeNeal-Findly.
A ZUMBA fundraiser organized by "Caring for CARES" team members Kelsie Clement, Melissa Gaskill and Jessica Tallant that collected over $400 and some 200 needed items for the CARES emergency fund.
An "I Won't Stand For Bullying" workshop held by the team of Devin Hamilton, Amanda Jackson, Marin Ngwa and Jerre Smith at the Garland Hayward Youth Center in Princess Anne, MD.
Fundraisers and activities for Hope and Life Outreach Ministries (HALO), which included:

"The Great Paper Chase," through which Hana Ephraim, Fatmata Thomas, Sarah Lozano and Shana Ellis collected more than 3,250 paper products for the organization;
"LASER for HALO," through which Leah Derr, Caitlyn Eskeland and Meaghan Ford raised over $400 for the program; and
"A Day of Beauty," organized by team members Lindsay Eberling, Sarah Porter, Michelle Trego and Gabe Wohl, during which those served by HALO's emergency shelter received haircuts, manicures and Zumba classes while their children participated in crafts and activities including a visit from SU's Sammy the Sea Gull. This project resulted in an ongoing partnership with the Delmarva Beauty Academy and SU's Exercise Science Program, volunteers from which will continue to donate their time for the cause.
In all, SU students participating in these projects raised more than $10,000 in funds and in-kind services, and helped increase awareness of some 19 different organizations, impacting hundreds of individuals throughout the Lower Eastern Shore.
For more information call 410-543-6030 or visit the SU website at www.salisbury.edu.