Thursday, October 20, 2011
SU Provost Allen Earns Outstanding Alumna Award from University of Memphis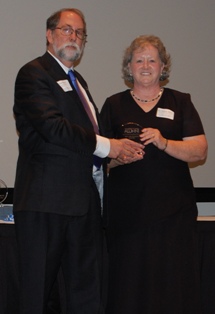 Dr. Henry Kurtz, dean of the University of Memphis' College of Arts and Sciences, presents the Outstanding Alumna Award to Dr. Diane Allen.
SALISBURY, MD---Dr. Diane Allen, provost and senior vice president of academic affairs at Salisbury University, has devoted her professional life to education.
Her dedication was recognized recently as the University of Memphis College of Arts and Sciences Alumni Board of Directors presented her with its prestigious Outstanding Alumna Award.
Allen, a Memphis native, earned her B.A. in English from the university in 1973.
"What the University of Memphis gave me was an understanding that the world was a bigger place," she said. "It opened my eyes to many opportunities."
She went on to receive her doctoral and master's degrees in curriculum and instruction from Oklahoma State University. She was a public school teacher in North Carolina and Oklahoma for 12 years and taught for another 20 in higher education.
From 1997-2004, Allen was an associate dean for the College of Education at the University of North Texas. Following that, she spent five years as the dean of the College of Education and Human Development at Southeastern Louisiana University before coming to SU.
She has delivered more than 50 educational presentations throughout the United States and published two textbooks. She also has authored peer-reviewed articles on topics including teaching at-risk students, increasing diversity in a college of education and undergraduate children's literature.
Allen has received the Media of Academic Merit from La Fundacion Liceo Moderno. She has served on review boards for the Association of Teacher Educators and the College Reading Association, and is a long time member of the International Reading Association. Nationally, she has served on the Library of Congress Curriculum Committee for Teaching with Primary Sources.
Her time at the University of Memphis, she said, gave her a strong foundation for her many successes.
"I'm grateful that I had a really good start in academia," she said. "It was a very broad stepping-off place, and I'm very proud of my affiliation with the university."
For more information call 410-543-6030 or visit the SU Web site at www.salisbury.edu.