Wednesday, January 28, 2015
SU Philosophy Students Compete in Ethics Bowl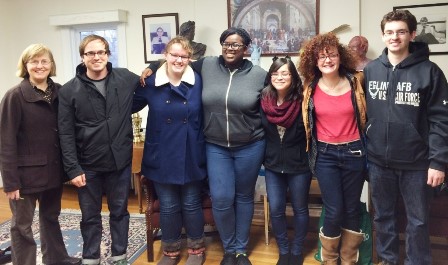 SALISBURY, MD---A new nutritional beverage may help solve world hunger issues … but its widespread use could lead to negative health, economic and cultural impacts.

A suspended animation pilot program may help save the lives of critical gunshot victims … but time constraints and the patients' states of consciousness may not allow doctors to get approval before implementing the experimental procedure.

State laws banning smoking in cars with children may have positive health effects … but they also raise questions about infringing on personal freedoms in private spaces.

These are just some of the issues Salisbury University students considered when preparing for the Northeast Regional Intercollegiate Ethics Bowl at Sacred Heart University, CT. The team defeated Tufts and Villanova universities and tied with the U.S. Military Academy at West Point to finish in the top four out of 24 teams. This was SU's first year competing.

"We were seen as the underdogs, but our students were among the best there," said the team's advisor, Dr. Grace Clement of the Philosophy Department.

Students spent several hours each week during the fall semester researching and discussing cases, and preparing ethical analyses. Cases at the competition included "three strikes" nuisance laws, the ethics of public shaming, and the "Batkid" case, in which the City of San Francisco spent public money (which was later reimbursed) to fulfil a child's request to be a superhero for a day through the Make-A-Wish Foundation.

Team member Tabitha Kanagie, a senior philosphy and environmental studies major from Colora, MD, said she and her fellow students were nervous at first. After their initial victory, however, things became more relaxed.

"After the first round, we stared to have more fun," she said. "We didn't treat it as much as a competition as we did a lively discussion."

The strategy paid off.

"Perhaps the high point for us was the quarterfinal round, which focused on animal and environmental ethics," said Clement. "Our students were especially knowledgeable and well prepared in these areas, and they received near-perfect scores from the judges."

Their performance earned them an invitation to the National Intercollegiate Ethics Bowl in Costa Mesa, CA, in February.

"We worked together for three or four months preparing for the competition," Kanagie said, adding the team is looking forward to the national event. "Being able to put everything we've learned into practice is very vindicating."

In addition to Kanagie, participating students included senior psychology major Faviana Bautista of Cambridge, MD; senior biology majors Adam Dunn of Frederick, MD, and Kaitlyn Mitchell of Hagerstown, MD; senior philosophy and history major Mark Oberly of Reamstown, PA; and junior mathematics and computer science major Keana Wellons of Great Mills, MD.

"Our students did an amazing job," Clement said. "They were poised and worked together beautifully as a team."

For more information call 410-543-6030 or visit the SU website at www.salisbury.edu.

Pictured, from left: Dr. Grace Clement, Mark Oberly, Kaitlyn Mitchell, Keana Wellons, Faviana Bautista, Tabitha Kanagie and Adam Dunn.