Monday, November 25, 2013
SU Men's Rugby Advances to National Semi-Finals Dec. 7-8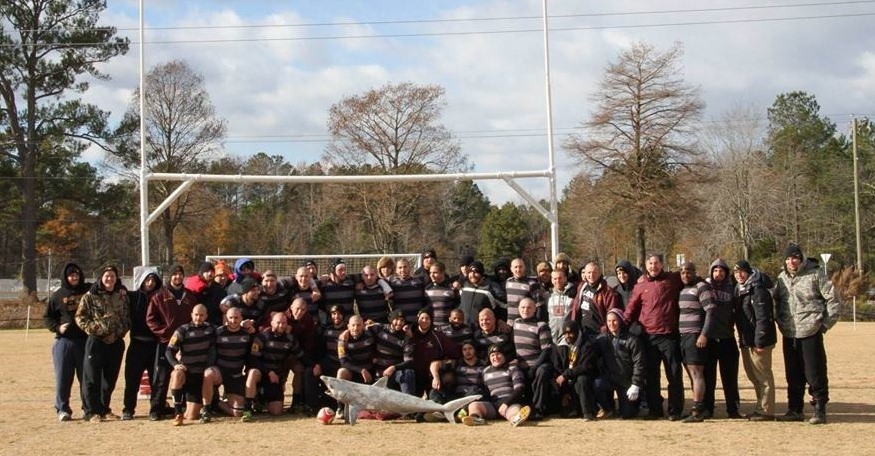 SALISBURY, MD---The Salisbury University Sharks defend their USA College Rugby Division II national title on December 7-8 at Furman University in Greenville, SC.
The SU men's rugby team takes on James Madison University in the semi-finals on Saturday, December 7. The winner plays either the University of Minnesota–Duluth (last year's runner-up) or the University of Wisconsin-Whitewater (2011 winner) in the national championship game on Sunday, December 8.
"SU's 1996-97 men's rugby team is the only Division II team to win back-to-back national titles, so we are trying to repeat that," said SU Coach Bill Creese.
SU's team hosted this year's Sweet 16 and quarter-final playoffs November 23-24 in Fruitland, MD. SU topped Bryant University, 34-12, and the Coast Guard Academy, 47-17, to advance.
Tickets are available on site only. The public is invited. Fans may follow game scores on Twitter @Salisburyrugby or at salisburyrugby.com. The games may be viewed live at https://www.youtube.com/watch?v=WZKFCxLbiO8&noredirect=1.
For more information contact Ethan Reese at er66707@gulls.salisbury.edu or Creese at wocreese@gmail.com, or visit http://www.rugbymag.com/men's-dii-college-/9995-dii-final-four-set.html.