Friday, July 29, 2011
SU Junior Jessica Johnson Earns Prestigious EPA Research Fellowship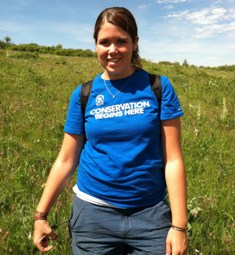 SALISBURY, MD---Salisbury University junior environmental studies major Jessica Johnson will have a rare chance to study alongside some of the most knowledgeable environmental scientists in the United States as a recipient of the Environmental Protection Agency's (EPA) 2011 Greater Research Opportunity Fellowship.
Only 30 of the awards, worth $42,700 each, are given each year. The fellowships provide students with college funding for their junior and senior years, as well as paid internships at EPA facilities during the summer between those years. Johnson is the third SU student in the past two years to receive the honor.
The Silver Spring, MD, resident became interested in environmental issues while attending Montgomery Blair high School, where she joined the Student Conservation Association. She volunteered with the U.S. Forest Service and the Maryland Park Service through that organization and continued her service after high school as an AmeriCorps member.
It was not until she began taking environmental classes at SU, however, that she became more interested in the policy side of things. It was then that she began taking note of the EPA's role in maintaining safe ecosystems.
"Through SU's programs, I've done environmental research papers," she said. "I'm hoping my experience with the EPA will teach me to do field work and give me more of a hands-on idea of how our actions impact the natural balance of the world."
The president of SU's Environmental Student Association, Johnson is engaged in campus life. She is a peer leader for the University's Green Floor Living Learning Community, event coordinator for SU's chapter of the Phi Eta Sigma national freshman honor society, and a member of the Outdoor Club and Campus Crusade for Christ.
Following graduation, she hopes to join the Peace Corps before attending graduate school, eventually working for the EPA or U.S. Forest Service.
Johnson is a Dean's List student. She is the daughter of Barry and Cynthia Johnson of Silver Spring, MD.
For more information call 410-543-6030 or visit the SU Web site at www.salisbury.edu.