Thursday, December 15, 2016
SU Hosts 'The Stage is Set: Leland Starnes and the Salisbury State Theatre' Exhibit January 3-May 31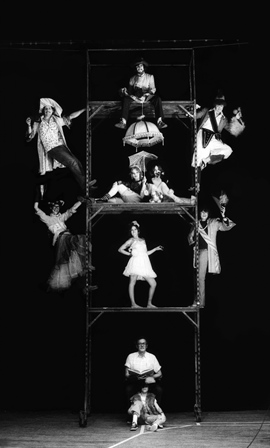 SALISBURY, MD---The Miracle Worker. Who's Afraid of Virginia Woolf? Our Town. Guys and Dolls.

In the 1970s, residents of the Salisbury area didn't have to travel to Broadway to see these popular shows — Dr. Leland Starnes brought them all to the university stage in what has been called a "Golden Age" for Salisbury University Theatre.

SU's Edward H. Nabb Research Center for Delmarva History and Culture recalls those and other acclaimed productions through the exhibit "The Stage is Set: Leland Starnes and the Salisbury State Theatre." The colorful display opens Tuesday, January 3, at the center's G. Ray Thompson Gallery in the Patricia R. Guerrieri Academic Commons.

The exhibit continues through Wednesday, May 31. A reception is 6-8 p.m. Thursday, February 9.

Starnes joined the faculty of what was then Salisbury State College in 1972, following tenures as director of Yale University's undergraduate Dramatic Association, and director of theatre at the University of Pittsburgh.

Working with scene designer Robert Cloyd, he elevated theatre at SU to a new level, often drawing comparisons to professional productions. Under his leadership, Salisbury's program earned widespread state recognition, including in the Baltimore and Washington areas. His productions were regularly — and glowingly — reviewed on Maryland Public Television.

His contributions to SU are remembered through the presentation of the Leland Starnes Memorial Award, given annually to a new student whose work in theatre demonstrates professionalism, pursuit of excellence and growth as an artist.

Following Starnes' death, in 1980, his wife, Mary, donated his papers to the University. They included scripts, notes, photographs, audio reels, cast lists, stage designs, programs, posters and news clippings from his time at SU. Much of this material is displayed in the exhibit, celebrating the hard work and dedication of the many faculty, staff and students who made the productions possible.

Sponsored by SU Libraries, admission to the exhibit is free and the public is invited. Gallery hours are 10 a.m.-4 p.m. Monday-Friday.

For more information call 410-543-6312 or visit the Nabb Center website at www.salisbury.edu/nabb.