Tuesday, January 30, 2007
SU Hosts Chinese New Year Dinner February 15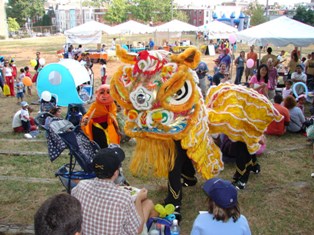 SALISBURY, MD---Salisbury University celebrates Chinese New Year with a Chinese dinner in the Bistro Dining Room of the Commons 5-7 p.m. Thursday, February 15, as part of its spring semester Festival of Foods series.
The dinner features performances by the Wong Chinese Lion Dancers, lead dancers of the annual Chinese New Year Parade in Washington, D.C.
Lion dancing is based on an ancient Chinese legend about a monster that is said to have descended from the mountains on the first day of the lunar year to destroy villages and crops. The villagers built a giant creature of their own—the mythological Chinese Lion—to frighten the monster away forever. From that day, the Chinese Lion symbolized strength, wisdom, good luck and the ability to drive away evil spirits.
Menu items include wonton soup, dim sum, fish in Szechuan hot sauce, Asian wings, pork fried rice, longevity noodles, bok choy with mushroom sauce, eggplant with chili sauce, pineapple tarts, vegan almond cake, fresh tangerines and fortune cookies.
Cost of the meal is $9.30 for adults, $5.72 for children ages 6-12. Children under 5 dine free. Reservations are not required.
University Dining Services and the Office of Cultural Affairs sponsor the dinner. For more information call 410-219-2872 or visit the SU Web site at www.salisbury.edu.