Wednesday, November 12, 2008
SU Hosts 25th Annual High School Math Competition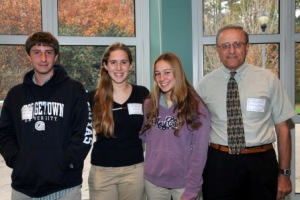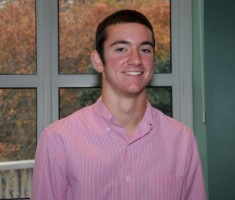 Pictured (L-R) are team winners Kyle Lewis, Robyn Glass, Emily Farr and advisor Conrad Wachter of the Salisbury School, as well as individual winner Ross Roessler of Worcester Prepatory School.
SALISBURY, MD---Some high-powered calculating took place at Salisbury University today when 75 students from 25 schools in Delaware, Maryland and Virginia demonstrated their mathematical expertise in the 25th annual Eastern Shore High School Mathematics Competition.
"For twenty-five years we have been inviting students and teachers from the region to campus for a day devoted entirely to the appreciation of mathematics," said Dr. Kurt Ludwick, who directs the competition with Dr. Jennifer Bergner. "These days, the students' participation is especially note-worthy given the current focus on STEM (Science, Technology, Engineering, and Math) education across the state and nation."
Students completed short answer and multiple choice questions during individual and team portions of the competition. They also worked on brainteasers such as: How many whole numbers between 1,000 and 2,008 include a 2 and a 5 as consecutive digits, in that order? (For the curious, the answer is 20).
First place team honors went to the Salisbury School's Kyle Lewis, Robyn Glass, Emily Farr and advisor Conrad Wachter. The second place winner was Gunston Day School in Centreville, while third place went to the Salisbury Christian School.
In the individual portion of the competition, Ross Roessler of Worcester Preparatory School in Berlin won first place honors. Runner-up was Yunmin Ni of Stephen Decatur High School in Berlin. Derek Wu of James M. Bennett High School and Howard (Buddy) Christopher of Saints Peter and Paul High School in Easton tied for third place.
Other participating schools included Cape Henlopen, Delmar, Indian River, Laurel, Seaford, Sussex Central and Woodbridge in Delaware; Colonel Richardson, Crisfield, Mardela, North Caroline, Parkside, Pocomoke, Snow Hill, Washington and Wicomico in Maryland; Arcadia and Broadwater Academy in Virginia.
U.S. savings bonds and mathematics-related books were awarded to the top three students, as well as to students on the three best teams. Certificates of participation and commemorative T-shirts were given to all students.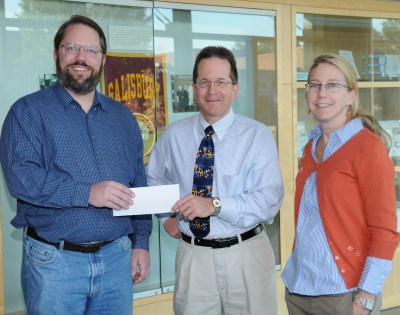 The contest was initiated in 1984 by three SU mathematics professors: Dr. Homer Austin; Dr. Robert Tardiff, who is now associate provost; and the late Dr. Bob Ehrlich. This year's competition was sponsored by Delmarva Power and SU's Department of Mathematics and Computer Science.
"Delmarva Power believes in supporting education-enhancing activities, and this competition certainly underscores the importance of a solid math education in today's society," said Matt Likovich, community and communications coordinator.
"Once again we are grateful for Delmarva Power's long-standing partnership in making this event a huge success," Bergner said. "This annual competition allows students to showcase their proficiency in math."
For more information call 410-543-6030 or visit the SU Math Competition website at www.salisbury.edu/mathcosc/HSMC.