Monday, June 23, 2014
SU Filmmaker Morrell Transitions From Small Town to Big Screen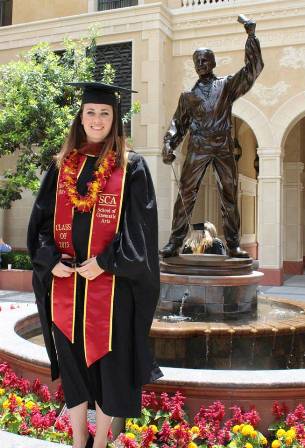 SALISBURY, MD---As a member of Salisbury University's women's lacrosse team, Easton, MD, native Alexis Morrell was in charge of choosing movies for the bus during the team's away games.
Now, she's making them.
After earning her B.A. in communication arts from SU in 2008, she enrolled as a film production student at the University of Southern California's renowned School of Cinematic Arts, following in the footsteps of Frank Capra, Robert Zemeckis and George Lucas, to name just a few.
Having recently received her M.F.A., she has worked on TV shows including Chelsea Lately with comedian and author Chelsea Handler, and Under the Gunn with fashion consultant Tim Gunn. Her film credits include the screen adaptation of William Faulkner's The Sound and the Fury, starring James Franco and Seth Rogen, due out this year. She also has been involved with promotions for Subway Restaurants, the Ford Motor Co. and the SXSW Film Festival.
She currently works in TV and film development for Fields Entertainment, whose productions have included the TruTV series The Carbonaro Effect and ABC Family's The Fosters, as well as the feature film Teenage Mutant Ninja Turtles.
She also is proud of her most recent production, Olhando Pras Estrelas (Looking at the Stars). The Kickstarter-funded documentary provides an inside look at Fernanda Bianchini's Association of Ballet and the Arts, a dance school for the visually impaired in Sao Paulo, Brazil. Now in post-production, the film not only explores the school and its vision, but delves into the lives of those who teach and learn at the institution. Morrell and her associates are seeking assistance with publicity and additional funding to complete the film.
Working in the TV and movie industry is a dream come true for Morrell, who, as a child, made sure to finish her homework as quickly as possible with a goal of leaving more time to watch reruns of comedies like Bewitched on Nick at Nite. She hoped someday she could be part of a team that brought productions like that to screens both big and small.
At SU, she learned how to work behind the camera in the classroom while also getting her share of performance experience. A theatre minor, she appeared in the Bobbi Biron Theatre Program's production of The Marriage of Bette and Boo and was a member of the Bound and Gagged student improve troupe.
Two of her professors, Drs. Jay Carlander and Sarah Case of the History Department, nudged her from there, encouraging her to apply to USC.
Carlander said, "'If you're going to do this, you need to apply to the best,'" she said. "'The worst thing that's going to happen is they're going to say no. You're already prepared for that, so just do it.'"
The story from there gets a little "Hollywood": The school said yes, and soon, the small-town girl made her way to Los Angeles, where she is on the brink of making her mark on one of the most difficult industries to break into.
She still thinks back on her days as an SU lacrosse player and how the lessons she learned on the field carry over into that critical industry: "I learned how to get yelled at and also to be relied on, and that's essentially how working your way up out here is.
"Sometimes people are going to tell you that you're not great, and sometimes they're going to want to tell you that you're amazing, and you're going to have to negotiate through what's real and what's not. I think sports definitely help do that: You know some stuff is fluff, and you know there's always something to work on."
For more information about Morrell's latest film, visit www.starsdoc.com or follow @balletstarmovie on Twitter. For more information about SU call 410-543-6030 or visit www.salisbury.edu.