Saturday, July 27, 2013
SU English Language Institute Welcomes Chinese Students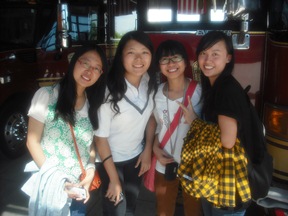 SALISBURY, MD---Some 22 Chinese students from Xinhua College of Sun Yat-sen University in Guanzhou, China, have been engaged in a four-week summer Intensive Study Abroad Program at Salisbury University. Offered through SU's English Language Institute, it is the first summer session for a large cohort.
"We are honored to provide a high quality study abroad program right here on Delmarva to help students from another country learn about life in America," said Dr. Brian Stiegler, director of SU's Center for International Education.
He called Xinhua College "an important partner to SU," adding that the summer session "is just the beginning of our plans for collaborative international programming."
The students have been accompanied by their dean of student affairs and a director of admissions, as well as macroeconomics professor Zhang "Teresa" Pengyuan. They really enjoyed experiencing American lives and talking to American students, Pengyuan said.
After intensive morning English language classes, the program has allowed the students to enjoy various cultural experiences. All actives were built around the theme of "a caring community" working together to take care of each other and the environment, said Caroline Porter-Long, SU program coordinator.
The group toured major U.S. cities including Washington, D.C. and New York City; enjoyed Assateague National Seashore and the Ocean City boardwalk; and learned about local history at Pemberton Hall. They went to area museums, the movies and the Queenstown Outlets.
Other highlights included learning about organic farming at Greenbranch Farm and about Chesapeake Bay health from writer and SU faculty Tom Horton. They met with Salisbury Mayor Jim Ireton and representatives of the Wicomico County Sheriff's Office and a community non-profit serving homeless people. Other planned activities: touring media studios and kayaking on Johnson Pond.
Opened in 2010 as part of the University's strategic plan to increase its number of international students, the English Language Institute is directed by Dr. Sam Song, a native of Anhui, China. It offers the region's only full-time intensive instruction in English to non-native speakers.
For more information visit the SU Web site at www.salisbury.edu/intled/eli.