Friday, April 8, 2011
SU Earns WMDT/Mountaire Environmental Star Award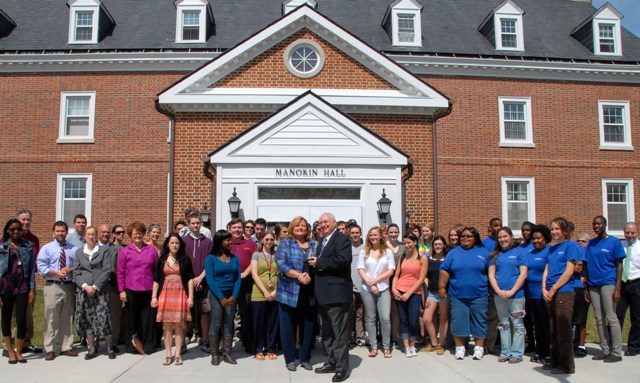 SALISBURY, MD---Salisbury University recently became the first higher education institution to receive the WMDT/Mountaire Environmental Star Award.
Eliciting cheers from a crowd of students, faculty and staff involved in the University's green efforts, SU President Janet Dudley-Eshbach accepted the award from Roger Marino, Mountaire's corporate director of community relations.
"We're demonstrating to students that the University, that an institution, can get out of its old ways and move forward in a more productive way to meet the energy needs of the campus," she told WMDT, whose camera captured the moment.
Representatives from the TV station and Mountaire then toured the recently renovated Manokin Hall, where students in SU's Green Floor Living Learning Community reside and attend classes in a SMART Classroom housed there.
Freshman Amanda Stone summed up the feelings of many students: "It's very important to be cautious about the environment, which a lot of people aren't. … Every little thing helps."
Wayne Shelton, director of campus sustainability and environmental safety, agrees … though he likes to focus on the big things, too, like the new geothermal heating and cooling system currently serving two of SU's residence halls and being installed in a third.
"We're finding that there's a significant savings in the heating and cooling costs in the buildings that are managed by geothermal," he said prior to a tour of Wicomico Hall's system. The impact on the environment is also noticeable—geothermal energy has a lower carbon output than traditional fossil fuels.
In 2007, Dudley-Eshbach signed the American College and University Presidents' Climate Commitment, pledging to reduce SU's net greenhouse gas emissions to zero by 2050. The next year's the University's Teacher Education and Technology Center (TETC) became the first U.S. Green Building Council LEED-certified new construction project on the Eastern Shore.
Since then, SU has made LEED Silver certification—the level earned by the TETC—its minimum standard for all new construction. University officials hope to exceed that initial achievement by aiming for Gold certification for some of its new and renovated buildings.
Last year, SU was one of only 286 campuses nationwide to be featured in The Princeton Review's inaugural Guide to Green Colleges.
For more information call 410-543-6030 or visit the SU Web site at www.salisbury.edu.