Monday, February 20, 2017
SU Earns Tree Campus Honors for Second Year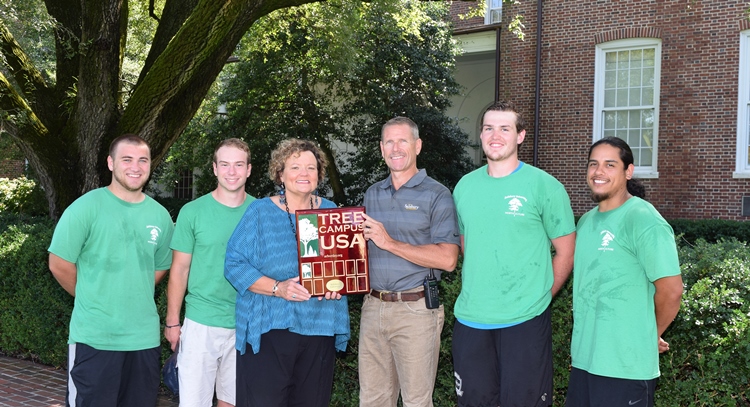 SALISBURY, MD---The Arbor Day Foundation recently announced Tree Campus USA recognition for Salisbury University for the second consecutive year, honoring the institution's commitment to promoting healthy trees and engaging students and staff in the spirit of conservation.

SU was one of only 296 campuses in the nation to earn the distinction this year.

"It is an honor to again receive this prestigious recognition," said Frank Bowen, SU assistant director of horticulture and grounds. "We are proud of our efforts in maintaining SU's botanical collection and other greenery, and this recognition shows those endeavors are not going unnoticed."

Colleges and universities receiving Tree Campus USA recognition must meet several core standards for sustainable campus forestry: establishment of a tree advisory committee and a campus tree care plan, dedicated annual expenditures for the campus tree program, an Arbor Day observance and sponsorship of student service-learning projects.

Other organizations also have taken note of SU's green campus. For many years, the Maryland Department of Natural Resources' (DNR's) Forest Service and Forestry Council have recognized SU as a "People Loving and Nurturing Trees" (PLANT) Community, awarding the campus its highest honor: the Green PLANT Award.

The Maryland Big Tree Program, in connection with the Maryland State Association of Forest Conservancy District boards and DNR, also has recognized three species of trees at SU (Crimean linden, balsam fir and Korean pine) as the state's largest. Five others (white oak, black oak, American elm, Japanese zelkova and eastern redbud) were named the largest of their species in Wicomico County.

The 182-acre campus has been praised as an outdoor laboratory for students and for maintaining more than 2,000 species of woody and herbaceous plants for public view.

For more information call 410-543-6030 or visit the SU arboretum website at www.salisbury.edu/arboretum.