Monday, August 1, 2016
SU Dining Services Earns A on PETA2 Vegan Report Card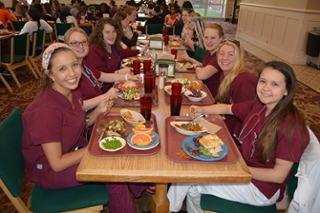 SALISBURY, MD---Salisbury University's Dining Services has the highest student vegan satisfaction rating in the University System of Maryland, according to a recent survey by PETA2, the youth division of People for the Ethical Treatment of Animals.

SU received an A on PETA2's 2016 Vegan Report Card, noting students gave the University an 86 percent satisfaction rating. Salisbury traditionally has done well in PETA2's surveys, including a 2014 nomination for the nation's "Favorite Vegan-Friendly College."

"University Dining Services takes pride in its commitment to satisfying and meeting the needs of all students, including vegans," said Marvin Pyles, SU interim vice president of administration and finance. "This recognition from PETA2 validates that we are providing exceptional service in that area."

This year's Report Card noted that SU offers at least one vegan entrée at every meal, provides non-dairy milk, clearly labels vegan entrées and desserts, promotes vegan options and participates in a "Meatless Mondays" campaign.

Vegans and vegetarians have praised SU's meatless salad bar, which also has expanded with a variety of fresh greens, replacing many canned and frozen items that previously were used, said Owen Rosten, SU dining services director. In the past year, the salad bar has gone from 40 percent fresh to 90 percent, with the addition of items such as baby spinach, mixed greens and romaine lettuce.

Offerings in the Bistro of the University's Commons dining hall also have expanded with more grain-based options like quinoa and vegetarian-inspired salads like Asian noodle and edamame. Rosten credited students from SU's Environmental Studies Department with providing the ideas for the changes.

The Commons also offers a daily vegan soup at its Plato's Plate dining station, as well as black bean and chickpea burgers. Vegan-friendly cellophane noodles are available as an option at the dining hall's wok station. Future initiatives may include vegan "meats" and "cheeses" at the Commons' deli.

"We are committed to continually developing options, offering variety and assorted taste profiles to ensure all students have a dining program that not only offers 'comfort foods' for our diverse community, but seeks out opportunities to expose students to cuisines they may never have heard of, tried or appreciated," Rosten said.

For more information call 410-543-6030 or visit the SU website at www.salisbury.edu.