Tuesday, April 15, 2014
SU Dance Company Presents Annual Spring Concert April 24-27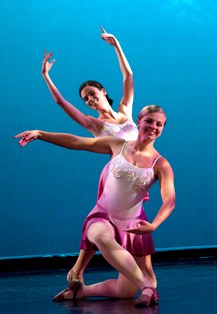 SALISBURY, MD---The Salisbury University Dance Company, directed by Mary Norton, hosts its annual Spring Concert Thursday-Sunday, April 24-27, in Holloway Hall Auditorium.

Curtain is 8 p.m. Thursday-Saturday, 2 p.m. Sunday. The hour-long program features works by guest choreographers, resident faculty members and company members, as well as a guest appearance by SU student Jade Qiu, who performs traditional Chinese dance. Qiu danced professionally in her native China prior to traveling to the United States.

Modern dance choreography by guest artists Linda Hallman-Darr and Alice Howes are featured in this year's program. Hallman-Darr, the Dance Department chair at the Center for Visual and Performing Arts at Suitland High School in Prince George's County, has set an African-themed modern dance, "See No Evil, Hear No Evil, Speak No Evil," to the music of Peter Gabriel.

Howes, a full-time dance faculty member at Coppin State University, uses a compilation of music by artists Marlui Miranda, Raimondo Sodré and Rusted Root to set the tone for her work, "Ação de Graças."

In addition, local artist Ebru Hungelmann uses modern dance technique in "One of These Days," set to the music of Pink Floyd. This is Hungelmann's premier work for the company.

Another local dance professional, Staci Alexander-Snyder, returns with jazz/funk choreography danced to Lady Gaga's new release, "Aura." Former company member Katie Erdman-Harrison returns to set her third work for the company since her graduation from SU. Her contemporary piece is performed to the song "All These Things I've Done" by the Killers.

Current company member Chelsea Chmel reprises her contemporary dance "Hopeless Wanderer," originally presented last fall. This piece was selected for presentation in this concert by a panel of professional dance adjudicators. Chmel also is the recipient of the National Dance Association's Outstanding Dance Minor Award.

Norton presents "Déjà vu," a contemporary ballet. The piece originally premiered in 2006 and is set to music by Miles Davis. Performances culminate with a finale that includes the entire company by faculty member Jessica Hindman-Wheatley.

Admission is $15, $10 for seniors, teens and SU alumni, free for children under 12. SU ID holders are admitted free for Thursday's performance only. Reservations are not required.

Tickets may be purchased online in advance and are available at the door starting one hour before each performance. For more information, call 410-543-6228 or visit the SU Theatre and Dance Department website at www.salisbury.edu/theatreanddance.