Monday, November 4, 2013
SU Commemorates Native American Heritage Month Through Monday, November 25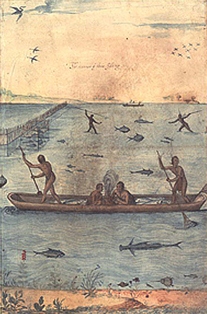 SALISBURY, MD---Salisbury University commemorates Native American Heritage Month in November with a special film, discussion and exhibit series.

Events begin 7 p.m. Tuesday, November 5, with a screening of the Peabody Award-winning documentary Reel Injun: On the Trail of the Hollywood Indian in Henson Science Hall Room 103. The 2009 Neil Diamond film follows the evolution of the depiction of Native Americans in movies from the first silent films to the 21st century. Included are interviews with directors, writers and actors including Clint Eastwood and Jim Jarmusch. John Kalb, SU professor of Native American literature, leads an open discussion following the screening.

Dr. Céline Carayon of SU's History Department offers an overview of the complex history of Native Americans in the region during the presentation "Hidden in Plain Sight: a Brief Historical Portrait of the Indian Nations of the Eastern Shore." Sponsored by SU's Edward H. Nabb Research Center for Delmarva History and Culture, her talk is 7 p.m. Thursday, November 14, in the center's gallery, 190 Wayne St.

Historical interpreter Daniel "Firehawk" Abbott discusses "Origin: an Explanation of Prehistoric Culture in the Mid-Atlantic" from 6:45-8:30 p.m. Tuesday, November 19, in the Great Hall of Holloway Hall. The presenter offers a unique introduction to the history, culture and lifestyle of Eastern Woodland American Indian groups of the mid-Atlantic. He brings their heritage to life through storytelling, audience participation and demonstrations of traditional crafts, dress and tool-making techniques.

Through Monday, November 25, the Nabb Center Gallery hosts the exhibit "Native Americans: First Contact on Lower Delmarva." Through prints, first-hand accounts and other items, the exhibit shows how area Native Americans lived and worked at the time of their first contact with Europeans. It also depicts ways in which Native American life changed shortly thereafter, including a loss of freedom, environmental alterations, continually shrinking territory and the establishment of reservations. Gallery hours are 1-4 p.m. Monday, Wednesday and Friday.

The series is sponsored by SU's Diversity Office, Native American Heritage Month Committee, History Department, Nabb Research Center and Charles R. and Martha N. Fulton School of Liberal Arts.

Admission is free and the public is invited. For more information call 410-543-6426 or visit the SU's Diversity Office website at www.salisbury.edu/diversity.