Thursday, January 31, 2013
SU Celebrates the Ravens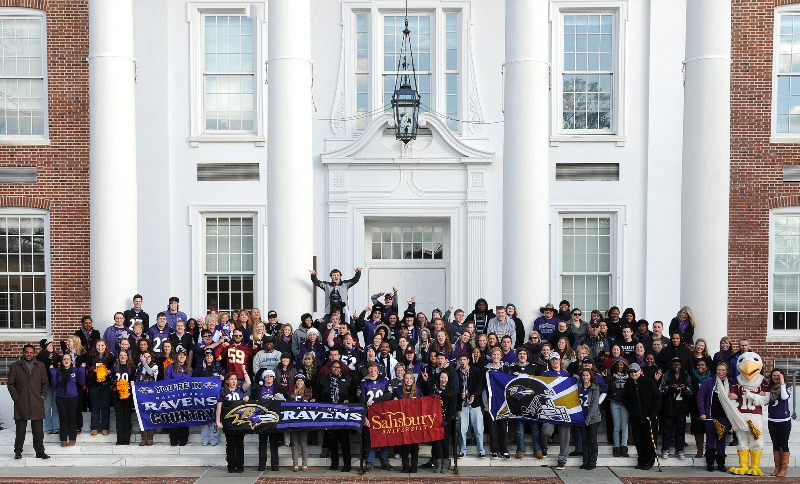 SU students, faculty and staff cheered for the Ravens during a February 1 pep rally.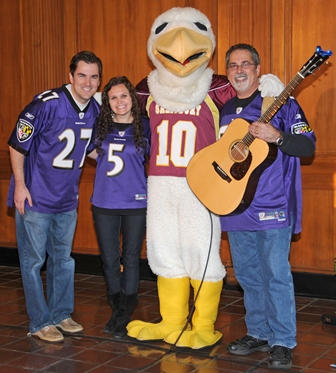 Matt, Sarah and Stan Robins pose with Sammy the Sea Gull.
SALISBURY, MD---Do Sea Gulls and Ravens flock together? Salisbury University's Office of Student Activities thinks so.
Faculty, staff and students are invited to show support for the Baltimore Ravens' Super Bowl berth during a rally Friday, February 1, at Holloway Hall. SU alumnus Steve Bisciotti '82 is the principal owner of the team.
Participants wore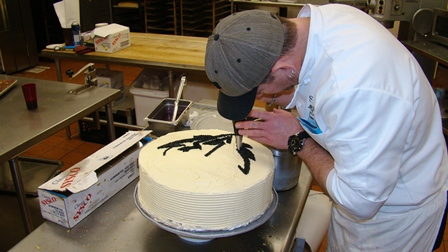 SU Sous Chef Matt Conley decorated a Ravens cake for Friday's rally.
their favorite Ravens and SU gear, including jerseys, sweatshirts and caps.
In addition, Salisbury's own Robins family, whose Ravens battle songs have gone viral with over 400,000 combined hits, performed. Watch the YouTube videos created by SU alumni Sarah Mitchell Robins '07, husband Matt, and father-in-law Stan '81 here:
http://www.youtube.com/watch?v=cBB459b-WuI
http://www.youtube.com/watch?v=7NJxOUcwPV4
Giveaways were provided to the most enthusiastic Ravens and Sea Gull supporters. Also, a Ravens cake, created by Dining Services, was cut and distributed on a first come, first served basis.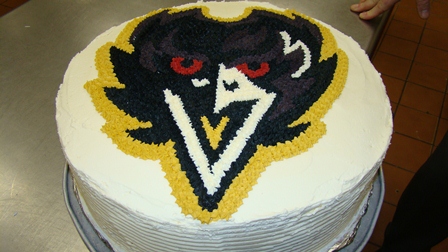 The Ravens cake was served at the rally.
Afterward, Dining Services hosted a Super Bowl Preview Dinner, with a menu that featured game day favorites, including beef brisket, wings, jalapeno poppers, blitz bars, football cupcakes and more.
On Sunday, February 3, SU broadcasted the Super Bowl in the Fireside Lounge of the Guerrieri University Center, where students watched the Ravens defeat the 49ers, 34-31, to capture the championship.
For more information call 410-543-6030 or visit the SU Web site at www.salisbury.edu.