Thursday, October 3, 2013
SU Celebrates Homecoming October 8-13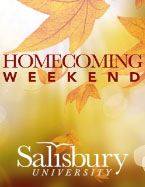 SALISBURY, MD---From an alumni pre-football-game barbecue to special dinners and reunions, Salisbury University's 2013 Homecoming Weekend is packed with excitement.

Events begin Tuesday, October 8, with an alumni faculty and staff breakfast, hosted at the Alumni House by the SU Alumni Association. Salisbury alumni working at the University are invited to stop in from 7:30-11 a.m. for coffee, breakfast and a gift. Those planning to attend are asked to RSVP by Tuesday, October 1.

.: Related Sites :.

.: Related News :.

The annual faculty emeriti and retired staff luncheon is noon-2 p.m. in the Wicomico Room of the Guerrieri University Center. (Admission to the luncheon is by invitation only.)

Events continue Friday, October 11, with the Varsity Club's annual golf tournament, co-sponsored by Chick-fil-A, at 10 a.m. at Nutters Crossing Golf Course. Entry fee is $65 per player, $240 per team. Pre-registration is required.

Inaugural members of the Holloway Society, named in memory of Dr. William J. Holloway, SU's founding president, are recognized during a special reception at 11 a.m. in the Holloway Hall lobby and Social Room. Attendance is by invitation only. The Holloway Society recognizes those who have made planned giving provisions of at least $25,000 in their estate plans to benefit the University.

The Residence Hall Association's annual powder puff football game is 2:30 p.m. on Holloway Hall Lawn. That evening, the SU Athletics Hall of Fame inducts four new members during its annual banquet at 6 p.m. in the Wicomico Room of the Guerrieri University Center. They are: Amy Campion Cohen ('03 women's basketball and tennis), Lisa Gentilella ('03 softball), Katie Mullinix Johnson ('03 softball) and Brendan Roddy ('03 men's swimming). Admission is $30, $25 for past inductees. Pre-registration is required.

Saturday events begin with tours of SU's new and renovated residence halls from 9-11 a.m. and an open house at the Alumni House and Miller Alumni Garden from 9 a.m.-2 p.m. Other open houses include the Biological Sciences Department at SU's Ward Museum of Wildfowl Arts and Geography and Geosciences Department in Henson Science Hall Room 159. Both are 10 a.m.-noon.

A homecoming parade, sponsored by the Student Government Association (SGA) begins 10 a.m. on Avery Street near Sea Gull Stadium. An SGA-sponsored block party, with inflatables provided by the Student Organization for Activity Planning, is 11 a.m.-2 p.m. at the Intramural Fields.

The Sea Gulls host SUNY Buffalo (NY) during this year's Homecoming football game at 1 p.m. Admission is $5, $3 for non-SU students, $2 for children 12 and under. SU ID holders receive one ticket free. The SU Pep Band plays during the game.

The annual Alumni Pre-Game Barbecue begins at 11 a.m., serving as a reunion for the classes of 1978, 1983, 1993, 2003 and 2008. Music is provided by Beauty for Ashes. Admission is $15, $5 for children 10 and under. Children may participate in a kite building event for an additional $3. Those pre-registering receive free admission to the football game. Those registering for the barbecue on the day of the event must purchase football tickets separately.

The Untouchables Dance Club performs in Henson Science Hall Plaza at 4:30 p.m. as sports fans make their way back to main campus from the game. The Multicultural Student Services Office hosts a post-game alumni jazz social in the Gull's Nest of the Guerrieri University Center from 4:30-7 p.m., featuring 2am Music.

A luncheon for alumni graduating prior to 1969 is 11 a.m. in the Worcester Room of the Commons. The class of 1963 is honored on its 50th anniversary. Admission is $20, free for Class of '63 members, and pre-registration is required. The classes of 1938, 1943, 1948, 1953, 1958, and 1968 will be recognized, as well.

Other Homecoming highlights on Saturday include:
9-11 a.m. – Hospitality tent, Quad
10 a.m. – WSSC/WSUR/WXSU student radio station 40th anniversary reunion, Guerrieri University Center, Pocomoke Room (pre-registration required, $10 suggested donation)
10 a.m. – Admissions process presentation, Scarborough Student Leadership Center
3-5 p.m. – SU Geography Alumni Alliance reunion barbecue, Eastern Shore Regional GIS Cooperative, 1248 S. Division St.
3-5 p.m. – Residence Life reunion, Sea Gull Square ($10 suggested donation)
5 p.m. – Pi Gamma Mu 30th anniversary celebration, Guerrieri University Center, Wicomico Room
5-7 p.m. – Class of 1988 reunion, Adam's Ribs, 219 N. Fruitland Blvd. (pre-registration required, $20)
5-7 p.m. – Class of 1998 reunion, EVO Public House, 201 E. Vine St. (pre-registration required, $10 suggested donation)
5-8 p.m. – Lambda Society Rainbow Reunion, Bellavance Honors Center (pre-registration required, $15, $7.50 children 12 and under)
6-9 p.m. – Class of 1973 reunion, Alumni House (pre-registration required)
Athletics highlights throughout the weekend include:
Friday, October 11
7 p.m. – Volleyball vs. University of Mary Washington, Maggs Center
Saturday, October 12
10 a.m. – Volleyball vs. Bridgewater College, Maggs Center
2 p.m. – Volleyball vs. Juniata College, Maggs Center
Sunday, October 13
2 p.m. – Field hockey vs. Frostburg State University, Sea Gull Stadium
Other events taking place during Homecoming include the Bobbi Biron Theatre Program's production of Moisés Kauffman's The Laramie Project, a play about the incidents surrounding the 1993 murder of Matthew Shepard. Directed by Dr. T. Paul Pfeiffer, chair of SU's Theatre and Dance Department, curtain is 8 p.m. Thursday-Saturday, October 10-12, 2 p.m. Sunday, October 13. The October 12 performance marks the 15th anniversary of Shepard's death. Admission is $15, $12 for seniors and alumni. Proceeds benefit Broadway Cares/Equity Fights AIDS, one of the nation's leading industry-based non-profit fundraising agencies to provide essential services for people with critical illnesses. For tickets call 410-543-6228 or visit www.salisbury.edu/theatreanddance.
University Galleries exhibits on campus during Homecoming include "Electro Kinetic Grammar," featuring work by Angel Nevarez and Valerie Tevere in the Electronic Gallery, Teacher Education and Technology Center Room 128, and "Marked: Recent Works by SU Art Department Faculty" in the University Gallery of Fulton Hall. A faculty panel discussion is 3:30 p.m. Thursday, October 10. A Music Department faculty recital is held in connection with the exhibit at 5 p.m. Friday, October 11, in Fulton Hall Room 112, followed by a reception in the University Gallery at 6 p.m. SU Art Galleries — Downtown Campus, 118 N. Division St., features two additional exhibits: "Marty Weishaar: Rural" and "Aaron Miller: In Support of Luxury."
Blackwell Library holds its annual book sale throughout Homecoming Weekend. The SU Bookstore also is open for Sea Gull shopping. In addition, those attending festivities are invited to three special dinners from 4:30-7:30 p.m. in the Commons: Hispanic heritage on Thursday, October 10; Taste of the Chesapeake, featuring Them Eastpoint Oyster Boys on Friday, October 11; and Oktoberfest on Saturday, October 12. Cost is $11.53 per person, $7 for children 5 and under. The Grammy Award-winning Spanish Harlem Orchestra performs at 7 p.m. in Holloway Hall Auditorium following the October 12 dinner.
Admission to all events is free unless otherwise noted. Special invitations are required to participate in some reunion events. For more information or to pre-register for events call 410-543-6042 or visit the SU Alumni website at http://alumni.salisbury.edu.