Monday, April 20, 2009
SU Celebrates Earth Day April 22
SALISBURY, MD---Salisbury University celebrates Earth Day with entertainment and activities from 11 a.m.-3 p.m. Wednesday, April 22, in the Wicomico Room of the Guerrieri University Center.
More than 30 clubs provide activities promoting sustainable energy-saving ideas. Local businesses Parker Place Gardens and Enza's organic hair salon will be on hand with earth-friendly products. Joining them are representatives from the Wicomico Environmental Trust, CreekWatchers, Urban Development and the Nanticoke Watershed Alliance. Free organic tee shirts will be distributed.
At 1 p.m. a "dirty foot contest" is held to promote water conservation.
"We want to encourage people to save water and think about not wasting resources, and if not washing your feet does it, then great!" said Julia Glanz, SU Student Government Association (SGA) vice president of University affairs.
Feet will be judged based on appearance, odor and other "surprise" attributes. The winner receives an iPod Nano.
Returning to more traditional Earth Day activities, a tree-planting ceremony is 4 p.m. outside the Scarborough Leadership Center.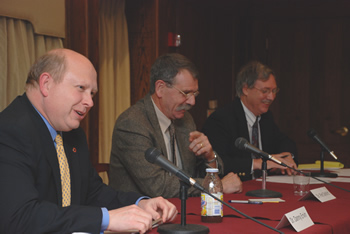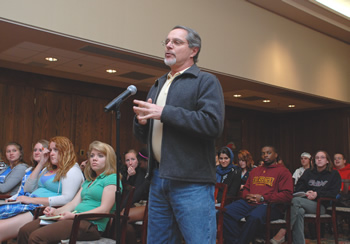 SU's Earth Day activities culminate with the forum "Alternative Energy: Where Are We Now and Where Are We Going?" 7 p.m. in the Worcester Room of the Commons. Drs. Piet DeWitt of the Political Science Department, Danny Ervin of the Economics and Finance Department and Fred Kundell of the Chemistry Department offer views on wind, solar power, water, nuclear power and clean coal as alternative energy sources.
Don Rush, Public Radio Delmarva news director, moderates the forum. Some questions will be submitted by students prior to the event, with an audience question-and-answer session during the forum. Student Earth Day projects will be on display at the event.
Sponsored by the SGA, Institute for Public Affairs and Civic Engagement (PACE) and ShoreEnergy, admission is free and the public is invited. For more information call 410-543-6030 or visit the SU Web site at www.salisbury.edu.