Friday, August 29, 2014
SU Art Galleries Presents 'TXTED' September 2-October 25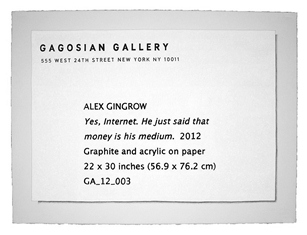 SALISBURY, MD---ICYMI, @SUgalleries "TXTED" 9/2-10/25.

Translation: In case you missed it, Salisbury University Art Galleries presents "TXTED" September 2-October 25.

"TXTED" explores the ever-evolving conversation between art and language through paintings, photographs, drawings, sculpture and installation using text to illuminate conceptual metaphors, visual insights and other narratives.

Curated by former SU Art Galleries Manager Marisa Sage, the multi-platform exhibit is spread throughout the University Gallery of Fulton Hall, Electronic Gallery (Teacher Education and Technology Center Room 128) and SU Art Galleries — Downtown Campus.

Artists in the exhibition include Sol LeWitt, Alex Gingrow, Iviva Olenick, Jayson Musson, Michael Scoggins, Meg Hitchcock, John Salvest, David Rathman, William Poshida, Kim Rugg, Daniel Oglander and Marni Shindelman.

A lecture with Nate Larson, whose collaborative work with Marni Shindleman is on view in the Electronic Gallery, is 5:30 p.m. Thursday, October 2, in Fulton Hall Room 111. A workshop with Larson is 10 a.m.-1 p.m. Friday, October 3, in Fulton Hall Room 145.

University and Electronic Gallery hours are 11 a.m.-4 p.m. Tuesday-Thursday, noon-4 p.m. Saturday. Downtown Campus hours are noon-6 p.m. Wednesday-Friday, noon-4 p.m. Saturday. Sponsored by SU Art Galleries, admission is free and the public is invited.

For more information visit the SU Art Galleries website at www.salisbury.edu/universitygalleries.