Wednesday, May 7, 2008
SSO Concert Features Movie Music, Guest Cellist May 10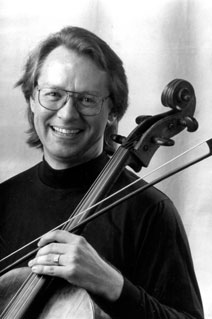 SALISBURY, MD---When Indiana Jones returns to the scene this summer, moviegoers are expected to flock to theaters in droves.
Concertgoers, however, have the opportunity to begin the fictional archaeologist's return a little early as the Salisbury Symphony Orchestra at Salisbury University (SSO) performs John Williams' "Raiders March"—Indiana Jones' theme song—during its annual Spring Concert 8 p.m. Saturday, May 10, in Holloway Hall Auditorium. The culmination of SU's "The Magic of Music" spring music festival, the concert also includes Williams' music from the Harry Potter movie series.
Conducted by Dr. Jeffrey Schoyen, other highlights include the premiere of Russell Podgorsek's work "Micro-Symphony," a piece commissioned especially for the SSO, and the Mexican rhythms and themes of Moncayo's "Huapango."
Guest soloist Allen Nisbet is featured on Elgar's "Cello Concerto." An 18-year veteran of the New Orleans Symphony and Louisiana Philharmonic Orchestra, he has recorded with several companies including Spectrum Records, Albany Records and Turnipseed Records.
He also performed for two years as assistant principal cello of the Denver Symphony. An associate professor of cello and bass at Loyola University New Orleans, he is also a member of the Loyola Piano Trio, which performs throughout the South. Nisbet has won the Big Easy Award for his performances as a chamber musician.
Sponsored by the Law Offices of David W. Moore, P.A., and Mr. and Mrs. Marshall W. Moore, admission is $20, $15 for seniors, $5 for children 12 and under, and SU faculty and staff. For tickets visit bookstore.salisbury.edu and click on "Box Office." For information call 410-548-5587.
Prior to the concert, the SSO and Restaurant 213 in Fruitland partner for "A Magical Evening," beginning with a pre-concert four-course dinner. Guests will be shuttled to the restaurant from the Alumni House at SU at 4:45 p.m. The shuttle returns to SU at 7:15 p.m., where they will have reserved seating for the 8 p.m. concert.
Cost for the dinner and concert is $50 per person (not including alcohol and gratuity). For those already holding concert tickets, dinner is $30. Space is limited and reservations are required. For reservations call 410-677-4880.