Tuesday, September 29, 2015
SGA Hosts Homecoming Week October 5-11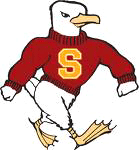 SALISBURY, MD---From a battle of the bands and indoor beach party to a parade and block party, Salisbury University's Student Government Association (SGA) rallies the campus during Homecoming Week.

Events begin 7 p.m. Monday, October 5, in Holloway Hall Auditorium, with a pageant to select this year's king and queen. A "Last Comic Standing" comedy presentation is 7 p.m. Tuesday, October 6, in the Fireside Lounge of the Guerrieri University Center (GUC). The annual Homecoming Week Battle of the Bands is 3 p.m. Wednesday, October 7, in Sea Gull Square.

Events on Thursday, October 8, begin with a cookout hosted by the "Big Six" — SGA, Appropriations Board, Student Organization for Activity Planning (SOAP), Saferide, The Flyer and WXSU student radio — at 11 a.m. at the Henson Angle. A "Wet and Wild Beach Bash" is 8 p.m. in the Wicomico Room of the GUC.

The Residence Hall Association's annual powder puff football game is 2:30 p.m. Friday, October 9, on Holloway Hall Lawn.

Activities culminate Saturday, October 10, beginning with a parade on Wayne Street at 11 a.m. The SGA's annual Homecoming block party follows from 11:30 a.m.-2 p.m. at the Intramural Fields. The annual Family Weekend ice cream social is 3-4:30 p.m. on Henson Hall Lawn, followed by a performance by Untouchables Dance, Inc., at 4:30 p.m. at the Henson Angle.

Entertainment continues with a step show, featuring SU's fraternities and sororities, at 7 p.m. in Holloway Hall Auditorium. Advance tickets, available at the GUC Information Desk, are $15, $10 for Greek organization members. Admission at the door is $20. SU's Student NAACP chapter and the National Pan Hellenic Council co-sponsor the event.

Students also may play "Bangin' Bingo" beginning at 7 p.m. in the Fireside Lounge.



Homecoming Week events end on Sunday, October 11, with a jazz brunch featuring the band Slim DeNunn and the High Rollers from 11 a.m.-1 p.m. in the Commons. Cost is $9.63, $4.95 for children 5 and under.

For additional information on Homecoming or Family Weekend, hosted by the Alumni Relations and Annual Giving and Student Affairs offices, visit http://alumni.salisbury.edu and www.salisbury.edu/parents/familyweekend.

For more information on Homecoming Week events call 410-548-4757 or visit the SGA website at http://sga475.wix.com/susga.