Friday, January 18, 2013
Registration Open for Spring 'Learn with SU' Seminars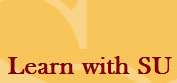 SALISBURY, MD---Registration is open for spring "Learn with SU" seminars, presented by the Salisbury University Foundation, Inc. and the Association for Lifelong Learning.
Membership, for Delmarva Peninsula residents age 50 and over, is $30 for the semester and includes all courses. Multi-session courses scheduled this semester include:
• "Pearl Harbor: Lessons for Today from America's Day of Infamy" with Michael Roberts;
• "I Hear America Swinging: When U.S. Music United its Diverse People and the World" with Phillip Hesser;
• "Trees Useful in Every Way: Forests and the Making of the Eastern Shore" with Phillip Hesser;
• "Family Folklore Treasures of the Eastern Shore" with Dorothy Yeatman;
• "The First Women Supreme Court Justices and the Law They Made" with Page Insley-Austin;
• "The Rise of the American Short Story" with Nancy Hesser; and
• "Assateague: Life on the Edge" with Kelly Taylor.
Registration deadline is Tuesday, January 29. To request a membership and registration form, and a detailed catalog of course offerings, e-mail assocforll@hotmail.com or visit www.associationforlifelonglearning.org.
For more information about the series visit the Learn with SU Web site at www.salisbury.edu/lifelonglearning.