Tuesday, October 10, 2017
Rapine Is First SU Ratcliffe Scholar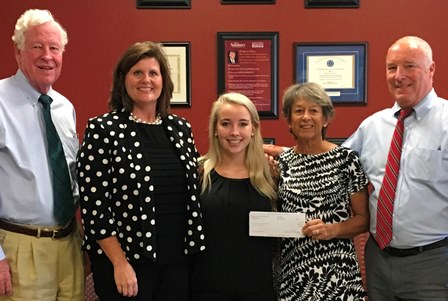 SALISBURY, MD---Salisbury University junior business management major Diana Rapine has long dreamt of opening a themed restaurant.
Thanks to the Phillip E. and Carole R. Ratcliffe Foundation of Baltimore, she may be a step closer.
Rapine, of Edgewater, MD, is the inaugural recipient of the $20,000 Ratcliffe Management Excellence Scholarship at SU.
The award will be given annually to a graduate of Anne Arundel Community College (AACC) in Arnold, MD, who attends SU. (The Ratcliffe Foundation also funds a scholarship at Anne Arundel.) Eligible students must demonstrate academic achievement and a commitment to entrepreneurship, as well as financial need.
Rapine chose SU in part because of its strong entrepreneurship offerings. The University is home to one of the longest-running student entrepreneurship competitions, founded in 1987. Last spring, SU's Franklin P. Perdue School of Business opened an Innovation, Entrepreneurship and Economic Development Hub as a resource for student entrepreneurs and announced plans for a new Center for Entrepreneurship, scheduled to open in 2020.
In 2013, the Ratcliffe Foundation gave a $1 million gift to the Perdue School to establish the Ratcliffe Shore Hatchery entrepreneurship competition for business startups in the mid-Atlantic. Its goal: to fund entrepreneurs and have new businesses opening within six months, with the potential of employing three or more within a year.
Since then, the program has provided some $800,000 to nearly 40 business startups. Rapine hopes to be among the winners during next semester's semi-annual competition.
"I want to be my own boss," she said. "I don't want to start just one business. I want to be a serial entrepreneur."
Other ideas include a furniture, décor and used textbook consignment shop for students, similar to one she once frequented in Towson, MD.
Along with that, she hopes to complete her degree at SU. She learned a lot about entrepreneurship in her classes at AACC. She believes Salisbury has even more to teach her — only a month into her first semester, she already has joined the University's Collegiate Entrepreneurs Organization (CEO). And she is thrilled that she continues to have the backing of the Ratcliffe Foundation.
"I'm so grateful," she said. "I'm not sure I could have come as far as I have without them."
For more information call 410-543-6030 or visit the SU website at www.salisbury.edu.