Tuesday, May 13, 2008
Rain No Match for 24th Annual SU Golf Classic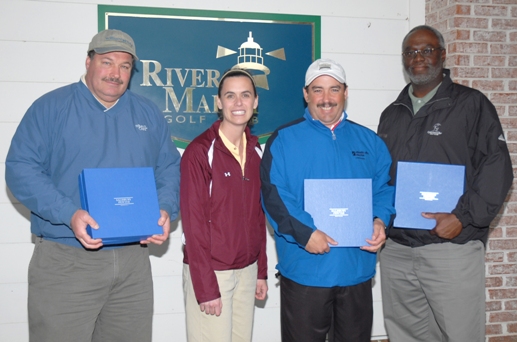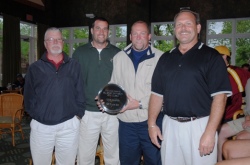 Pictured (left) is Amy Waters, SU's director of Leadership Giving and Stewardship, with gross winners from the Delmarva Power team. The net winner (right) was the team from Whiting-Turner.
SALISBURY, MD---A full field of golfers participated in the 24th annual Salisbury University Golf Classic on Friday, May 9, at River Marsh Golf Club at the Hyatt Regency in Cambridge, MD, with two goals: to raise college scholarships for SU and to have a fun time.
Both goals were successfully accomplished even if the weather outlook seemed bleak in the morning.
"We are very fortunate that the weather improved today for this great turnout," said Ed Maguire, co-chair of SU's Golf Classic. "The course is in great shape."
A field of over 30 teams competed for prizes and bragging rights as the day focused on the future for SU. Funds raised will help future Sea Gull students benefit from college scholarships and other programs.
"It is really important that Clear Channel be involved with the SU Golf Classic," said Clear Channel's Dennis Weller who is an SU Golf Classic committee member. "They are one of many businesses in the community that is helping to support Salisbury University in raising college scholarships."
The foursome from Delmarva Power of John Allen, Neil Baker, Joe Nice and John Peitio won the team gross award. The team net winner went to the foursome from Whiting-Turner of Jim Martini, Steve Bayson, Larry McGuire and Dave Norsworthy. Bayson also won the longest drive competition while Roger Plaskon from the Long and Badger team won the closest to the pin contest.
"The rain this morning could not slow us down from putting on another wonderful SU Golf Classic," said Amy Waters, SU's Director of Leadership Giving and Stewardship. "The great turnout by our teams and sponsors shows us their commitment to Salisbury University and understanding the importance of helping our students and campus programs."
The day wrapped up with dinner catered by Black Diamond Catering along with a live and silent auction.
"I remember hearing about the SU Golf Classic back when I was in school [at SU]," said Pete Roskovich ('88), an SU Golf Classic committee member. "Times have changed but the concept hasn't."
The 2008 SU Golf Classic Award Winners are Delmarva Power (first), Clear Channel (second) and Lorch Microwave (third) for gross score, and Whiting-Turner, Long and Badger and WelGard for net score. Closest to the pin was Roger Plaskon (Long and Badger) and longest drive was Steve Bayson (Whiting-Turner).
For more information about the 24th Annual SU Golf Classic visit www.salisbury.edu/foundation/golfclassic or contact Waters at 410-677-5416.