Thursday, June 9, 2011
President Dudley-Eshbach Honored at Women Leaders Celebration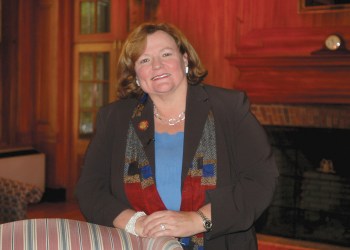 SALISBURY, MD---Since Dr. Janet Dudley-Eshbach became SU's eighth president in 2000, the first woman to hold the office in the University's 85-year history, the campus has grown in size and reputation.
Recently she was among 45 in Wicomico, Worcester and Sussex counties honored during the Women Leaders Celebration hosted by The Dispatch newspaper of Ocean City, MD, as part of its Shore Stars program. A committee led by the paper selected its recipients from more than 100 nominations.
"I am honored to be included in such notable company," said Dudley-Eshbach, "however, no one person can take credit for the progress Salisbury University has made in the past decade. This accolade is shared with SU's faculty, staff and students, who have worked so hard to make our institution a Maryland University of National Distinction, and with the community, which so generously has supported these efforts."
During Dudley-Eshbach's 11-year tenure, enrollment at SU has increased by more than 31 percent to some 8,400 students, with minority enrollment more than doubling. The University also has consistently been among the top public universities as ranked by U.S. News & World Report and The Princeton Review/USA Today, and has been named a "Best Value" by Kiplinger's Personal Finance. The Chronicle of Higher Education recognized SU as a "Great College to Work For®" in 2009 and 2010.
In addition, Dudley-Eshbach has helped the University grow strategically. She oversaw the addition of the $65 million Teacher Education and Technology Center and has been instrumental in developing a new $55 million home for the Franklin P. Perdue School of Business and a $45 million residential-retail complex, Sea Gull Square, scheduled to open this fall.
She also has been a strong proponent for sustainability. Since its inception, The Princeton Review's Guide to Green Colleges has included SU. Closer to home, the University earlier this year became the first higher education institution to win the WMDT/Mountaire Environmental Star Award.
A Latin American scholar who is fluent in Spanish, Dudley-Eshbach is a champion of international study, increasing travel opportunities in all academic disciplines. She has led the University in new directions through a series of initiatives promoting shared governance; increased diversity; and improved town-gown relations.
Dudley-Eshbach has served on the board of directors for the American Association of State Colleges and Universities. She was formerly president of Fairmont State University in West Virginia and held faculty and administrative positions at three other campuses. She earned her Ph.D. from El Colegio de México.
She was not the only member of the SU community honored by The Dispatch. Others included SU Foundation, Inc. board member Debbie Abbott; Mitzi Perdue, long time University supporter and founder of Healthy U at SU; alumnus and Town-Gown Council member Stephanie Willey; and past SU President's Distinguished Community Leadership Award recipient Dr. Peggy Naleppa, president and CEO of Peninsula Regional Medical Center and the Peninsula Regional Health System.
For more information call 410-543-6030 or visit the SU Web site at www.salisbury.edu.