Monday, November 10, 2014
Murphy Discusses 'Trees in the City' Wednesday, November 12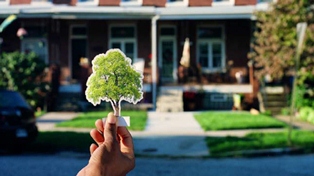 SALISBURY, MD---Trees have been shown to have a number of positive impacts on cities, from regulating heat to providing habitat for insects, birds and other animals.
Charles Murphy is among those striving to provide that in Baltimore.
The greening coordinator for the Baltimore City Recreation and Parks Department's TreeBaltimore program, Murphy discusses the organization's experiences working to increase tree cover during the talk "Trees and the City" 7 p.m. Wednesday, November 12, in Salisbury University's Henson Science Hall, Room 243.
His presentation is part of SU's fall Environmental Studies Colloquium Series.
As part of a mayoral initiative, TreeBaltimore's goals include reaching 40 percent tree canopy by 2030, up from 27.4 percent currently, to meet recommendations for a healthy city from the American Forests conservation organization.
Because Baltimore has only 19 percent grassland, compared to 43 percent hard surfaces (streets, buildings and parking lots), finding places to plant new trees can be a challenge. The group partners with individual homeowners, as well as communities, schools and businesses, to locate new tree growth areas.
Often, these areas include front and back yards in row house neighborhoods, as well as large institutional properties such as colleges, schools, hospitals and industrial areas.
According to TreeBaltimore, the city currently has some 2.8 million trees, providing an estimated $3.3 million annually in energy savings by shading buildings from summer sun and winter winds. Additional savings estimates include $10.7 million from carbon storage (527 tons each year), $3.8 million from air pollution removal (700 metric tons annually) and $1.6 million for ozone manufacturing (244 metric tons each year) — or approximately $57,000 per tree.
Sponsored by the Environmental Studies Department, admission to Murphy's talk is free and the public is invited. For more information call 410-543-6030 or visit the SU website at www.salisbury.edu.