Thursday, July 12, 2007
'Memories of Survival' Author Speaks at SU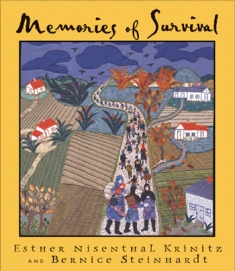 SALISBURY, MD---A Passover celebration, early morning Nazi raids and eventual freedom in America are among the childhood memories depicted on embroidered quilt pieces created by Holocaust survivor Esther Nisenthal Krinitz.
Her daughter, Bernice Steinhardt, discusses the fabric scenes, featured in the 2005 book "Memories of Survival," at Salisbury University on Saturday, July 21. Held 11 a.m. in Caruthers Hall Room 203, Steinhardt's talk explores the book about the story quilts, as well as her mother's remarkable life.
"I would highly recommend this talk for those interested in art, history and stories of the survival of the human spirit," said Dr. Ernest Bond of SU's Teacher Education Department. "Krinitz was an amazing artist and her story is one that should not be forgotten."
Born in 1927, Krinitz lived for three years under Nazi occupation in Poland before fleeing to the countryside with her younger sister, Mania. They survived the Holocaust but never saw their parents or siblings again.
In 1949, Krinitz and her husband immigrated to the United States. Trained as a dressmaker, the Maryland resident decided at age 50 to tell her story through quilted art. Before her death in 2001 she created some 36 fabric pictures that capture memories of her family and her journey to survival. Each has strong, vivid colors, striking details, and a meticulously hand-stitched caption.
The 64-page picture book, co-authored by Steinhardt, powerfully combines stories and art. The pictures reveal a shocking incongruity between the pastoral surroundings and the violence and terror that took place.
Published by Hyperion Books for Children, "Memories of Survival" has been praised by critics and is listed by the New York Public Library as one of the top 100 books of 2005. The story quilts have been displayed at the American Visionary Art Museum in Baltimore, among other places.
As part of Steinhardt's talk, a short video will be shown, featuring excerpts of interviews with Krinitz and her sister.
Sponsored by Salisbury University's Teacher Education Department and the Department of Education Specialties, the talk is free and the public is invited. Children are welcome to attend accompanied by an adult. Please RSVP to 410-548-3257 as seating is limited and reservations are required. Copies of the book "Memories of Survival" will be available.
For more information call 410-543-6030 or visit the SU Web site at www.salisbury.edu.