Wednesday, June 26, 2013
'Meaning of Matthew' Author Judy Shepard Speaks at SU Thursday, August 22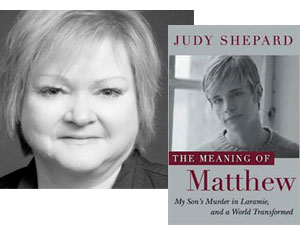 SALISBURY, MD---On October 8, 1998, Judy Shepard became a national figure.
That morning, she and her husband were awakened by a phone call telling them that their son Matthew had been cruelly beaten and left in a coma because of his sexual orientation. Four days later he died, and the Shepards' ordeal produced a national outcry.
There, amid the rallies and vigils, the Shepards resolved to prevent their son's fate from happening to others. Judy recounts the days immediately following the murder and more in The Meaning of Matthew: My Son's Murder in Laramie, and a World Transformed, this year's New Student Reader Program book at Salisbury University.
Returning to SU for the first time since 2004, Shepard speaks about her experiences and hosts a book signing 7 p.m. Thursday, August 22, in Perdue Hall Room 156. Admission is free and the public is invited. Those planning to attend are encouraged to read the book in advance.
In The Meaning of Matthew, Shepard shares grief she and her family experienced while standing by her son's side in the hospital, where only life support machines kept him alive, and the crippling loss they experienced when he died. The New York Times bestseller also delves into the Shepards' emotions when they learned of candlelight vigils and memorial services held for their son across the nation, the incredible response they received from strangers and the legal struggles they faced as the murderers went to trial.
In addition, Shepard explains why she became a gay rights activist and the challenges and rewards of raising a gay child in the United States today.
"The Meaning of Matthew is not always an easy read — the murder details are harrowing — but her message prevails: Tolerance and love must always triumph over hatred," said Entertainment Weekly, which rated the book an "A."
"Shepard is at her best when she lets her guard down and speaks frankly, as a mother and an activist with a wincingly simple message: 'Go home, give your kids a hug, and don't let a day go by without telling them that you love them,'" wrote the San Francisco Chronicle.
Now in its ninth year, SU's New Student Reader Program is designed to orient new students to the academic community by sharing a common reading experience with classmates, faculty, staff and upper-class students who serve as orientation team peer leaders.
For more information call 410-543-6030 or visit the SU Web site at www.salisbury.edu.