Thursday, April 26, 2012
Khan Continues Writers-on-the-Shore Series Thursday, May 3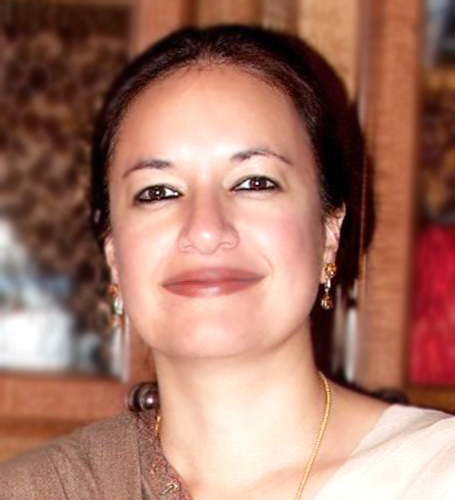 SALISBURY, MD---Salisbury University's spring Writers-on-the-Shore series culminates with a lecture by Dr. Nyla Ali Khan 8 p.m. Thursday, May 3, in the Worcester Room of the Commons.
The author speaks on "Rethinking Nation and Religion: South Asia and the World."
Khan is the granddaughter of Sheik Abdullah, Prime Minister of Kashmir from 1948-1953 and one of the most important political figures in the modern history of the Indian subcontinent. Khan is Visiting Professor in the University of Oklahoma's Department of English and the author of The Fiction of Nationality in an Era of Transnationalism (Routledge, 2005) and Islam, Women and Violence in Kashmir: Between India and Pakistan (Palgrave, 2010).
"Transnationalism" refers to a process by which geographical and political boundaries are transgressed, producing new social formations. Transnational politics, however, often lead to cultural and religious fanaticism, polarized between the "authentic" and the "demonic."
Khan discusses how transnational identities relate to nationalist histories, using examples from India and Kashmir and their associated diasporas in the United States and United Kingdom. These include the infamous 1992 destruction of the Babri mosque in northern India by Hindu fundamentalists.
"I question the exclusivity of cultural nationalism, the spread of religious fundamentalism and the irrational resistance to culture and linguistic differences," says Khan. "I look at the historical and religious forces involved in the forging of a nationalist identity, especially in the context of postcolonialism.
"Understanding historical and social events through more than one framework allows me to highlight the variability of the critical spaces — intellectual, political, ethical and gendered — that I, as a transnational subject, occupy."
Khan's writings have earned critical acclaim from internationally renowned scholars in a range of disciplines, including South Asian studies. Ashis Nandy, Senior Fellow at India's prestigious Centre for the Study of Developing Societies, and listed in 2008 by Foreign Policy magazine as one of the world's top hundred public intellectuals, states, "Once a community experiences the trauma of state formation at its expense, its capacity to envision a different kind of political arrangement weakens. Happily, the myth may not have yet gelled in Kashmir. This is where Nyla Khan comes in."
Dr. Manav Ratti, Assistant Professor in the Department of English at SU, states, "Not only is Nyla Khan one of the most powerful and intelligent voices today writing about Kashmir, but she also brings the passion, insights and leadership of a family deeply instrumental to the politics of South Asia. It is a tremendous boon to the University that she has accepted our invitation."
Dr. Soosaipillai I. Keethaponcalan, Chair of the Department of Conflict Analysis and Dispute Resolution (CADR) at SU, believes that Dr. Khan's visit can ignite renewed interest in South Asia among the academic community at Salisbury. He states, "The conflict resolution community could learn a great deal in terms of conflict and peace building from the South Asian experience."
Dr. Maarten Pereboom, Dean of the Fulton School of Liberal Arts, states, "Dr. Khan's visit presents an outstanding opportunity for the campus community to interact with a leading scholar of postcolonial literature and culture. With a South Asian studies minor program taking shape, I sense a great deal of student interest in the region. With our excellent faculty connecting with colleagues throughout the academic world, I can see a center of excellence emerging."
Sponsored by the English and Conflict Analysis and Dispute Resolution departments, Charles R. and Martha N. Fulton School of Liberal Arts Dean's Office and Writers-on-the-Shore, admission is free and the public is invited.
For more information call 410-543-6030 or visit the event Web site at http://faculty.salisbury.edu/~mxratti/khan.htm.