Thursday, August 7, 2008
Healthy U HUEY Award Winners Honored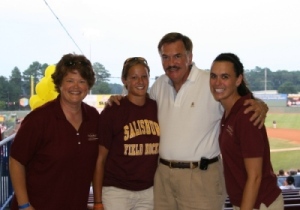 SALISBURY, MD---Salisbury University's Healthy U of Delmarva program rolled out the red carpet for its annual HUEY Awards on August 1, awarding six $1,000 checks to local individuals and groups who strive to make their community—and themselves—healthier.
Presented during the Delmarva Shorebirds' game at Arthur W. Perdue Stadium, the winners were: Marcia Chrysostome for healthiest individual, SHORE UP! for small business, Parkside High for school, St. Stephens United Methodist Church for house of worship and Eastern Correctional Institution for corporation. Salisbury Middle won Outstanding HUEY.
Chrysostome lost weight by walking five days a week for 30 minutes and packing a healthy lunch. "This is a great accomplishment for me after having four children," she said. "Winning this award is important because I am not halfway to my goal yet. I need to stay focused and motivated. Plus, I want to be a role model to my children."
Chrysostome is an administrative assistant at SHORE UP!, an organization which has encouraged physical activity among employees by building a gym in the office. Chrysostome said having the fitness area makes it convenient to exercise after work.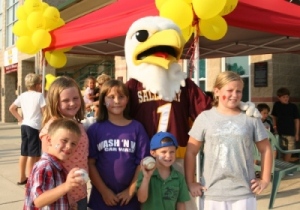 Parkside High earned a HUEY for encouraging healthy living in the school environment through a smoking awareness program, daily Healthy U facts, a "Biggest Loser" competition, ping-pong tournament, homerun derby and "Trek to the Pacific Coast."
"This is the third year Parkside has been a part of Healthy U and it is exciting to have these awards to serve as an incentive," said health teacher Joe Halowich. "My co-workers are now more educated about their health and I have been able to apply the ideas and experiences I learned at SU to our Healthy U program here at Parkside, said alumna Courtney Lewis ('01).
St. Stephens United Methodist Church in Delmar encouraged its congregation to exercise by implementing a "Walking Across America" program that has charted more than 115,000 miles walked since February 2006.
"The Healthy U staff was helpful and knowledgeable with aiding us with ideas for our program," said coordinator Peggy Moore ('63). "We constantly try to promote being healthy," said her husband Wayne ('63). "We are happy to be part of the Healthy U program that is now run by our Alma Mater."
With some 75 employees who are Healthy U members, Eastern Correctional Institution (ECI) has implemented workplace wellness events and incentives since 2005. "Getting our staff more involved in fitness has been beneficial," said Linda Ramsay of ECI.
Salisbury Middle School encourages teachers, administrators, staff, parents and children to eat better and exercise more through such programs as "Biggest Loser," push-up and sit-up contests, "Walk Across the World," and free yoga and strength training classes.
"We are absolutely thrilled to win this Healthy U award," said principal Amy Eskridge. "We have a rich tradition of being a member of Healthy U. I am proud of my staff for being hard workers in being healthy." "Positive peer pressure helps motivate others to do well in our program," said health teacher James Lawson ('06). "The collaboration with Healthy U and Salisbury University can only make things better for our community."
Second place HUEY Award winners were Delmarva Surgery Center, James M. Bennett High, Trinity United Methodist and Peninsula Regional Medical Center. For more information call 410-742-9202 or visit the Healthy U Web site at www.healthyudelmarva.org.