Friday, January 27, 2017
Guerrieri Art Space Presents 'The Pieces of Memory' Exhibit Through February 17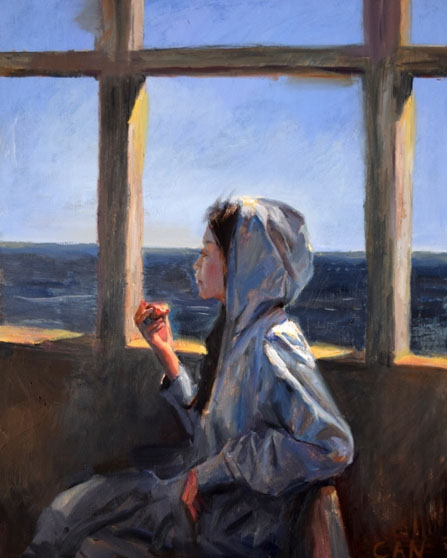 SALISBURY, MD---The Guerrieri University Center Art Space hosts the painting exhibit "The Pieces of Memory" by Salisbury University B.F.A. major Cancan Huang through Friday, February 17.

Born in Liuzhou, Guangxi, China, in 1983, he came to the U.S. in 2014 and began studying at SU in 2016. Prior to that, he spent five years teaching college preparatory painting for high school students in China, following in the footsteps of his parents, both college art professors. His oil paintings have won several awards in his native country.

"I have been fascinated with figurative forms since I was a child," said Huang. "I liked to observe the stream of people on the street because every person has his or her unique features including their costumes, facial expression and body shape. These features can make each of them as a solid individual, as well as tell the stories behind them.

"I obsessed with excavating and reproducing the individuals who I ever met somewhere and sometime. I consider them as parts of my memories, and I also want to share these memories to viewers through my figurative work.

"I stick with realism style. For me, realistic painting is not as simple as a copy of the subject, but a closer and deeper observation. In order to portray my models accurately, I need to scan every inch of them carefully, including exploring their inner world. These observations also provide me chances to rediscover my subjects, and there is always something new that I can find from the models, even for those who are the most familiar to me. For me, a successful piece is one that I had making a voiceless communication with my models and visualizing it to my viewers."

The Art Space is located in the Guerrieri Center's second-floor concourse. Admission is free and the public is invited. For more information call 410-543-6247 or visit the Art Space website at http://www.salisbury.edu/guc/artspace.