Tuesday, April 18, 2017
Guerrieri Academic Commons Recognized by U.S. Government Publishing Office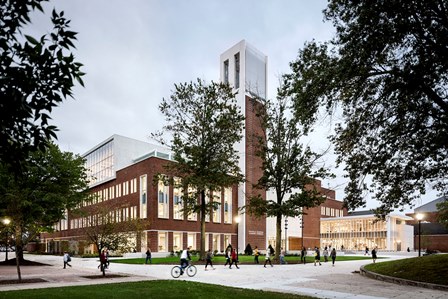 SALISBURY, MD---Salisbury University's Patricia R. Guerrieri Academic Commons (GAC), opened earlier this academic year, continues to draw praise from online media nationwide — and it's not just library-centered publications that are hailing the new building.

In January, the Maryland chapter of the U.S. Green Building Council honored the GAC with its prestigious Wintergreen Award for Excellence in Green Building. Last semester, Library Hotline, the e-newsletter from the trade publication Library Journal, spotlighted the $117 million, 221,000-square-foot building.

This month, the U.S. Government Publishing Office highlighted the GAC on the office's Federal Depository Library Program website and e-newsletter, FDLP Connection.

SU Libraries has been an FDLP member for over half a century, providing free public access to its collection of electronic and hard copy federal government publications. These include presidential papers, congressional documents and economic indicator statements, among other items.

Dr. Beatriz Hardy, dean of libraries and instructional resources, noted that giving Eastern Shore residents access to government documents is one way in which SU supports the local community, as well as students and faculty.

SU Libraries "has continued to grow and change in creative ways to meet the needs of generations of users," the FDLP said. "The design of the building itself is one way SU Libraries is keeping up with user needs.

"The FDLP Collection is located on the third floor … and provides users with a mix of traditional and modern library services. The library's administration values all government information and strives to make a relevant collection useable by all people in the area. The print collection is thoughtfully developed and well maintained, while electronic resources are made available to users who prefer that format."

Every SU Libraries department supports the collection, the FDLP said, from technical and public services to library administration: "The entire library staff knows where the collection is located, what it is about and how to help patrons use it. With this much support, the FDLP collection is used a great deal and will continue to be used for years to come."

The FDLP also spotlighted other features, including "the pit" first-floor research commons, SU MakerLab, Writing Center, Math Emporium, and Edward H. Nabb Research Center for Delmarva History and Culture.

To view the full article visit https://www.fdlp.gov/index.php?option=com_content&view=article&id=2943:salisbury-university-libraries&catid=186:spotlight&Itemid=385&utm_source=newsletter_1113&utm_medium=email&utm_campaign=vol-7-no-2.

For more information call 410-543-6030 or visit the SU website at www.salisbury.edu.