Thursday, September 26, 2013
Genetin-Pilawa Inaugurates Honors Lecture Series Thursday, October 3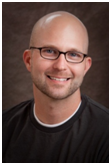 SALISBURY, MD---Native Americans are not always associated with the history of Washington, D.C.
Thousands of Native American leaders, diplomats and families visited the nation's capital during the 19th and 20th centuries, however, leaving their mark on the city. Historian and author C. Joseph Genetin-Pilawa discusses one such history-maker as the inaugural speaker in Salisbury University's Thomas E. Bellavance Honors Program Lecture Series.
His talk, "The Indians' Capital City: Native Histories of Washington, D.C." is 7 p.m. Thursday, October 3, in the Worcester Room of the Commons. The speaker focuses on the role Leta Myers Smart, a member of the Omaha Nation, played in having offensive statues removed from the Capitol in the 1950s.
Genetin-Pilawa is the author of Crooked Paths to Allotment: The Fight over Federal Indian Policy after the Civil War. He also has written articles for the Journal of Women's History and Western Historical Quarterly, and is commemorating the sesquicentennial of the Civil War with a series of post for the New York Times blog Disunion, scheduled to begin in mid-October.
He has received fellowships from the Smithsonian Institution, the Newberry Library in Chicago, the American Philosophical Society in Philadelphia, the U.S. Capitol Historical Society and the Library of Congress.
Sponsored by the Bellavance Honors Program, admission to his talk is free and the public is invited. Light refreshments will be served.
For more information call 410-543-6030 or visit the SU website at www.salisbury.edu.